Custom Hats & Caps With Patches Attached

Stadri's custom caps are a cost effective way to promote your organization. We have a wide variety of colors and styles to choose from and we make ordering simple.
CAP PRICING
Patch price not included
| | | | | | | |
| --- | --- | --- | --- | --- | --- | --- |
| Quantity | 12 | 25 | 50 | 100 | 150 | 300 |
| Price | $3.95 | $3.65 | $3.35 | $2.95 | $2.75 | $2.50 |
Sewing Application Fees
12pcs: $4.25 ea.
24pcs: $4.00 ea.
50pcs 3.50 ea.
100pcs: 3.00 ea
300pcs: 2.75 ea.
Heat Application Fee
12pcs: $1.50 ea.
24pcs: $1.00 ea.
50pcs 75¢ ea.
100pcs: 50¢ ea
300pcs: 35¢ ea.

12 Piece Minimum
Your Choice of Premium Cap
No Set-up or Art Charges
3 Week Turnaround Time
Free Sample Proof by Photo
Price-Match Guarantee
MOST POPULAR CAP STYLES

Click and drag left or right to view more
Above are our most popular options. Dozens more are available. Call us at 1-800-679-7909 for more options.
Affixing Custom Patches To Hats
Many operate under the assumption that the only type of patch that can be affixed to a custom cap or hat is the embroidered type. Additionally, some also believe they are limited to a stock patch size or even a single placement on a hat. Thankfully, both of these assumptions are false. Here, we will inform you of the options available to you. Consider how one of our customers, Anthony Milavic of The Butter Cutter, utilized many of our cap customization options.
Customization #1 - Different Types of Patches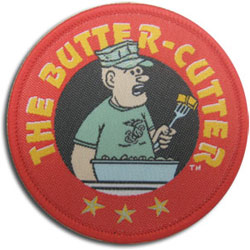 The patches you affix to your custom caps don't have to be embroidered; you can also affix woven patches, printed patches, and even woven labels. Most people opt for the woven or printed option when their design contains a lot of small detail that would be limited by the embroidery process. Shown here is the woven patch that Anthony of The Butter Cutter affixed to the front of his caps.
Customization #2- Different Types of Hats
True, the most popular type of headgear that incorporates custom patches is the cap; however, patches can also be affixed to beanies, head-bands, visors, canvas sun hats, and more. Basically, custom patches can be attached to any type of headgear that is made of fabric. Iron on backing is appropriate for natural materials that are thick, while sewing is the better choice for synthetic and thin materials. This is not to say that one absolutely cannot attach a custom patch to headgear such as a helmet—likely, a solution such as heavy-duty super glue would work, but we at Stadri cannot claim to have knowledge of any specific instance where someone has done this.
Customization #3 - Different Placement Locations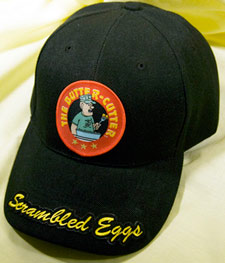 The most standard placement is front and center. Many other patch placements are available, though. You can see from the image on the right that Anthony opted for two different placements: one in the standard spot and one that curves along the bill. Other placements available are the back, the side of the hat, and the side of the bill.
Customization #4 - Different Patch Sizes, Borders, Backings, etc
If you want to sew your patch, order it with plastic backing or without backing. Plastic backing adds more thickness and stiffness to the patch, whereas not having a backing at all makes the patch more thin and flexible-it's up to your personal needs and preferences. As far as borders go, you have the option of either merrowed (wrap around) or diecut (cut to shape). We recommend a diecut border for hats for two reasons. First, if your patch is cut to shape, it gives the appearance of being directly embroidered right into the cap, making the cap and patch seem more integrated. Second, diecut patches tend to stay affixed as securely as the day you got them, for the life of the hat.
If you're placing your patch on the front, standard location, the overall patch size is limited to 3", but if you're placing the patch in a less traditional location, more size options will opened up to you. Note how the scrambled eggs patch that Anthony placed on the bill of the cap was able to be nearly 6" wide.

Many other customizations exist, most involving the custom caps themselves, such as different fabrics, bill styles, and enclosures. Give us a call at 1-800-679-7909 to learn more.