About Stadri Emblems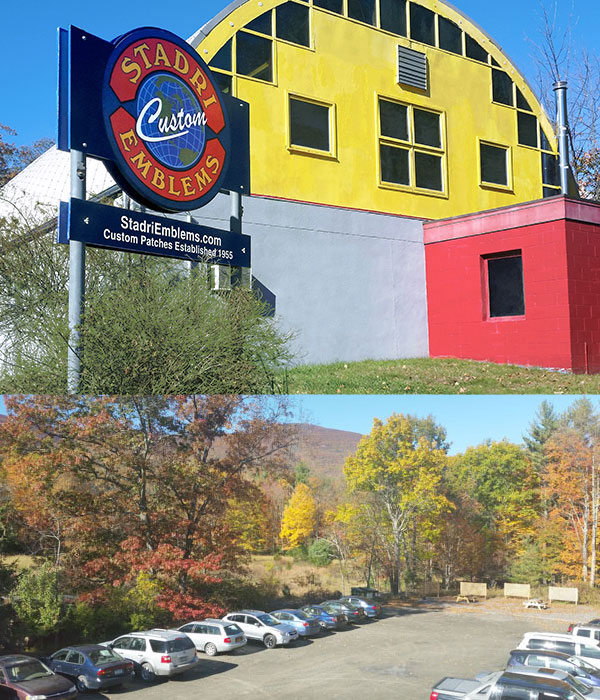 Stadri, Inc started out as a family operated custom embroidery business in 1955. Since its incorporation in 1984, Stadri Emblems has become one of the nation's leading suppliers of custom embroidered patches, having supplied well over 30 million to date.
Stadri's philosophy is built on our commitment to quality. Our custom embroidered patches are simply the finest available. They are manufactured using the industry's most advanced computerized looms, finest cotton twills, and quality colorfast threads.

Get to know the people behind the company!
Now you can put faces to the names and voices of all the people who are involved in making your patch order the best it can be.
This comprehensive section is complete with cool caracatures, bios, interviews, photos, and quirky questions.
The History of Stadri Emblems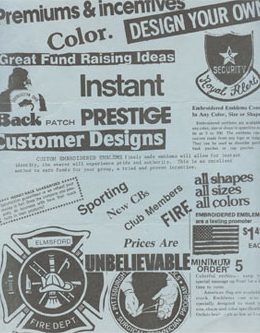 We weren't always known as Stadri. We used to be known as Sta Dri (pronounced "stay dry"). Back in 1955, Morris Schepetin, while working for the USPS, was intrigued by the idea of having a mail order business to supplement his family's income. Recently married, he and his wife were living in the Bronx. Morris' first idea for his business was that of fixing broken umbrellas. Umbrellas were expensive accessories in those days, unlike the throw away types we are familiar with today. If an umbrella had a bent rod or fabric that needed to be sewed, he and his wife Irene would fix it by hand and mail it back.
At that time, Morris and Irene's bedroom was serving as the living and sleeping quarters for them and their three children, as well as for the operation of the business. On one occasion, the doctor came for a house call and threatened to call the Health Department if they did not move the children to a more healthful environment.
Irene immediately scoured the boroughs and found a house in a newly developed neighborhood in Queens. Now with a basement to store their inventory, Morris expanded, selling collapsible umbrellas, raincoats, and folding rubber rain shoes. For many, the term "totes" is familiar; however, before totes were popular, Morris had rain gear. Among the other products he sold were silent dog whistles, ventriloquist books, Dick Tracy watches, walkie-talkie helmets, and custom embroidered patches, with small ads taken out in the backs of magazines. Everything was done via mail. Customers would request a catalogue, which would consist of a cut and paste, call-to-action sales sheet that Morris painstakingly collected and pasted together. He became the master of the cut and paste catalogue, trying out many different ideas. Some says these had an odd resemblance to a ransom note.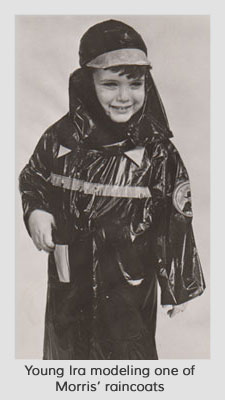 Sometimes they used the children to advertise their products. Ross, one of Morris and Irene's sons, says, "My father used to take us to the photographer. We dressed up in the raincoats. My dad would hire the kids from the neighborhood, and they would help stuff envelopes and help with the packing."
Morris would come home from his job at the USPS at 3:00 pm and would work in the basement until about 7:00, eat dinner, and return to the basement. Thursdays and Fridays would always be busy, since those were the delivery days. Ira, Morris' other son, as well as Ross would sometimes join him. Overall, it was a constant presence in the Schepetin household.
At the time of their retirement, Morris and Irene moved the business to Florida, and it kept them busy in their retirement. The business was eventually taken over by their son Ira. He continually moved the business to larger facilities as it grew. In 1984 they moved to a loft in Soho, New York, and remained there until 1992, when Ira moved the business upstate to Woodstock. Stadri Emblems has remained in Woodstock since that time; however, in 2007 they moved to their largest facility yet—a 10,000 square foot, uniquely artsy building with a full warehouse. Stadri Emblems is now larger than it has ever been, and we owe it all to loyal customers like you. We hope to continue to provide you with superior quality, custom embroidered patches for the next 30 years to come.