Name, Business, and Uniform Patches
Embroidered or Imprinted
Name Patches are the essential finishing touch for uniforms, corporate shirts, and lab coats. Motorcycle groups and clubs use name patches to personalize riding gear; sporting groups use them to label bags and equipment.
Stadri's name patches are custom designed to your specifications. Customizations available include: thread, border and background colors, as well as shape, size, and font. Custom name patches can be ordered with iron-on backing, plastic, no backing, Velcro® brand fastener, or adhesive.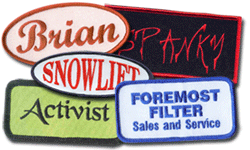 Name Patch Pricing
Size
4pcs.
6pcs.
12pcs.
25pcs.
50pcs.
2.0"
10.95
8.99
7.25
6.49
5.99
2.5"
11.25
9.15
7.55
6.99
6.22
3.0"
11.95
10.45
9.90
8.58
7.99
3.5"
12.52
10.92
10.20
9.88
9.22
4.0"
12.95
11.55
10.99
10.22
9.99
4.5"
13.45
11.99
11.22
10.69
10.22
5.0"
14.15
12.39
11.88
11.09
10.72
Nothing can replicate the classic look of an embroidered name patch. With overlocked merrowed borders and colorfast threads designed to withstand the harshest washing processes, Stadri's name patches are the best in the business! Rush service is available; however, a 7-10-business day turnaround time is adequate for most orders.
Imprinted or dye sublimated name patches permanently dye the name into the patch. Imprinted and dye sublimated patches can have unlimited colors at a finer detail than embroidery with no threads to fray. After final approval, imprinted name patches have a 3-5-business day turnaround for faster satisfaction.
Examples of Name Patches
Click thumbnails for larger images