Custom Woven Labels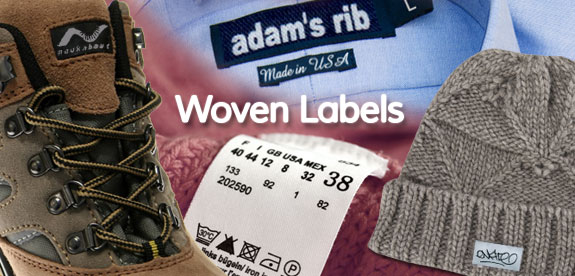 Woven labels are most commonly used on clothing and apparel for branding and identification purposes; a secondary use is on crafts and hand-made goods. Woven labels are made by weaving different threads together to form a design.
Woven Label Size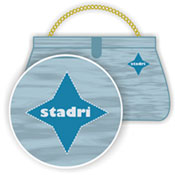 Woven Labels are intended to brand your apparel or crafts, being a complement to them, rather than the first thing you'd see. With this in mind, choose an appropriate relative size for your labels—visible on your garment, but not overwhelming. The most popular woven label size is 1.5 inches; however, you can request your labels at any size from half an inch to eight inches overall.
To determine the pricing size of your label, average your two dimensions. A two inch label can have a lot of variety. (2 x 2), (3 x 1), (2.25 x 1.75) are all considered 2 inch labels.


Design
The more simple and thick your text is the better it will weave onto your labels. Block fonts in capital letters such as Arial can be as small as 8pts in a standard word processing program. Fancier fonts as well as block fonts in lower case, such as Serif and Script, shouldn't be below 10pts. The less detail you try to pack into a small label, the better your results will be. If your budget is too tight for a larger label, you can simplify your design or choose a printed fabric label, rather than woven.
Sewing Margin and Location
The label's location on the garment and the label's fold are what determines whether a sewing margin is needed. Sewing margins are 1/8" unless otherwise requested. When determining the size of your woven labels, remember the margin will further reduce the size of the artwork on the label.
Woven Labels Price List
50pcs.
100
250
500
1000
2000
5000
10,000
1.0"
1.69
0.89
0.66
0.43
0.24
0.16
0.12
0.09
1.5"
2.18
1.35
0.75
0.47
0.26
0.17
0.12
0.10
2.0"
2.78
1.49
0.79
0.49
0.27
0.18
0.12
0.10
2.5"
2.98
1.59
0.83
0.51
0.28
0.19
0.13
0.11
3.0"
3.28
1.74
0.89
0.54
0.31
0.20
0.14
0.12
3.5"
4.16
2.18
1.07
0.63
0.34
0.21
0.14
0.13
Woven labels are available in damask, taffeta, and satin materials.
There are no setup or art charges / Free up to 8 colors
For heatseal or adhesive backing add 10¢ per label
Get Quote Now!
Woven Label Folds


Straight Cut Labels do not have folds; they can be sewn on all four sides, a single side, or any combination of these.


A diecut label does not have a fold and is usually a unique shape, rather than the standard rectangle or square. Most of the time, diecut labels are not sewn, but have heatseal or adhesive backing instead.


A label with an end fold takes 1/8 inch off the left and right of the label and folds these flaps down, usually sewing these flaps into a seam.


Mitre fold labels have ends that are folded under and up, creating a tab to be sewn into a seam.

Loop fold labels are first folded in the middle or not at all, and then the two ends are sewn together into a seam.

A center fold label is folded in the middle and then sewn into a seam at the fold.