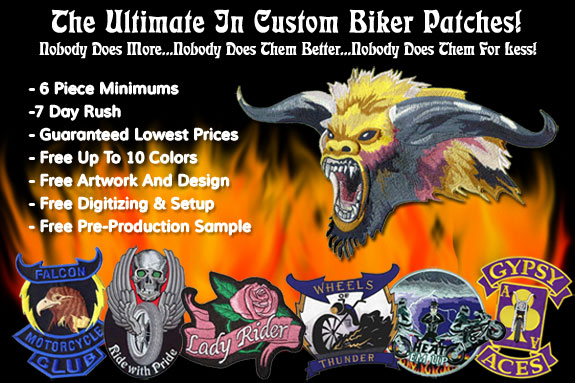 Motorcycle Patches by Stadri Emblems
Your motorcycle isn't just a bike; it's your way of life. It represents who you are. It reflects your attitude, personality, and identity. Similarly, your motorcycle patches and apparel can be essential pieces of riding equipment that you can customise to adapt to your bike, making you distinguishable from the crowd. With a few unique touches, you can achieve a truly dynamic look.
One of the most popular ways to customize your motorcycle clothing is attaching custom motorcycle patches. Particularly common among motorcycle club members, a custom patch can identify a member of a special group. Biker patches are usually worn to make a statement about identity and to show off one's greatest achievements. Most bikers wear their patches on their jackets or vests.
Not Just Motorcycle Patches—
Works of Art in Thread!
PLEASE NOTE: The motorcycle patches on this page are for educational purposes only, and are not for sale or duplication.
Customizing your motorcycle clothing is easy once you know what message you want to send. What do you want your patches to say about you? When creating your design, think about what material you would like your patch to be made from. Most bikers prefer heavy cotton twill or faux leather. Next, think about the design; what shape do you want? What colors best describe you or your club or group? You can scan through biker magazines and browse the Internet for inspiration, or sketch your own design. Alternatively, you can submit a sketch or idea to our Art Department and they will create beautiful finished artwork to your specifications.
We Offer Top & Bottom Rockers, MC & Rank Patches

Check out our rocker design page for tips on designing your rockers for your custom biker patches.
Custom 'In Memory' Patches