Stadri Stats
Role at Stadri: Graphic Artist
Additional Details: Elisa is a member of the art department, where she creates digital renditions of custom patches for customer review.

Length of Time at Company: 4 Years
Favorite Thing About Elisa's Role at Stadri: Working in a great office environment that's also in my field. The view of the mountains from my desk is also pretty nice.

Personal Bio: Elisa has a Bachelor's Degree in Digital Media and Graphic Design. She has always loved to sing or draw in her spare time, even better with either occurring outdoors. Hiking or being active is where you will find her when she is not helping take care of her grandmother.

Interests: Art, music, food, languages, and nature

Favorite Activities: Hiking, swimming, volleyball, painting, singing

Pets: One cat: Pooli, I named her Sasha, but my grandmother somehow changed that to Pooli, and well, that's what she answers to.
Random Questions
What was your first job? I worked at a Daycare down the street from my house. Played with the kiddos, helped them with homework and made sure they didn't get hurt.

If you didn't work for Stadri, what would you like to be doing? Starting a design business with my best friend or traveling.

Name a place in the world you would like to visit more than any other. France
What was the last book you read? A non-fiction about Nutrition.
Name a food that repulses you. Steak
Favorites
Movie:
The Phantom of the Opera
TV Show:
Battlestar Galactica
Band:
Incubus
Book:
Into the Wild by Jon Krakauer
Color:
Blue and Green
Art Medium:
Oil Paint
Animal:
Dogs
Food:
Eggplant Parmesan
This or That?
Summer or Winter?
Summer
Tea or Coffee?
I like both
Pizza or Cheeseburgers?
Pizza
Music or TV?
Music
A quiet evening at home or a night out on the town?
Quiet evening at home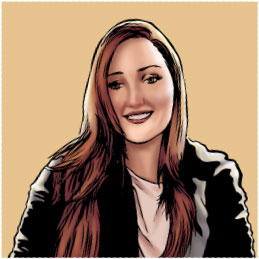 Meet Elisa