Stadri Stats
Role at Stadri: Director of Marketing/Art
Additional Details: Marisa oversees all the Marketing for the company and is also the web designer of the Stadri Emblems website.

Length of Time at Company: 12 Years
Favorite Thing About Marisa's Role at Stadri: The flexibility and variety of the job, and the opportunity to implement strategy and critical thinking.

Personal Bio: I am a nature lover, a health nut, and a music fanatic. On the weekends I volunteer at the Woodstock Farm Animal Sanctuary, and I'm currently writing a sci-fi novel.

Interests: Quantum Physics, Astrophysics, Geology, science, psychology, health and fitness, music and art, and all things abstract

Favorite Activities: Summer activities, hiking, running, swimming in streams, jumping off cliffs into water, escaping to California in the winter, roller coasters, tennis, growing my own food, reading non-fiction books, learning, dancing (very poorly), and hanging out with close friends.

Pets: Nothing now, but I used to have a Rainbow Boa Constrictor.
Random Questions
What was your first job? I worked at a country store dusting knickknacks, stocking shelves, and taking out the trash.

If you didn't work for Stadri, what would you like to be doing? I would move to California and live and work on a vineyard in the central valley.

Name a place in the world you would like to visit more than any other. Big Sur, California
What was the last book you read? I go through at least one non-fiction book per week, so this is too dynamic of a question for me.
Name a food that repulses you. Toss-up between olives, beets, and goat cheese.
Favorites
Movie:
Dancer in the Dark
TV Show:
Fringe, The Office, Castle
Band:
Contemporary: Muse; Classic: Queen
Album:
The Resistance
by Muse
Sports Team:
I don't understand the appeal of watching other people play sports. I'd rather participate!
Color:
Green
Animal:
Mimic Octopus
Food:
Fried sweet plantains
Restaurant:
Chipotle
This or That?
Summer or Winter?
Summer! Winter is an abomination.
Tea or Coffee?
Tea. Although there's nothing like iced coffee on a hot day.
Music or TV?
Music! I recently got rid of my TV because I never watched it.
A quiet evening at home or a night out on the town?
A night out for sure. There will be plenty of time to lie around the house when I'm old and can't move.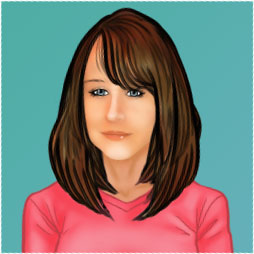 Meet Marisa