Today begins a new series for the Stadri Emblems blog. Alida, one of our many charismatic sales consultants bleeds Yankee pinstripes. We'll highlight Alida's top picks in new monthly series: Alida's Yankee of the month.
Stadri: I'm very excited bout 'Alida's Yankee of the month' blog series. Who is your first Yankee of the month?
Alida: Me too! It's hard not to pick Derek Jeter. Who doesn't love the captain? Not only is he nearing the end of his march to the 3000 hit club but he is one of the greatest short stops of all time coming off of a Gold Glove winning season!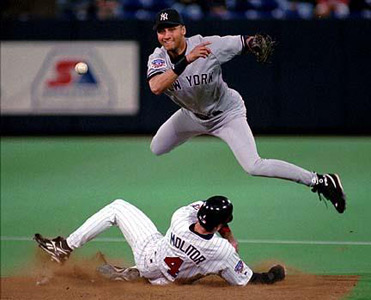 S: All valid points. Do you think this year will be his last playing shortstop, and how do you feel about his rumored move out to where the dandelions grow?
A: It's really going to come down to the year he has. If he's healthy and productive he'll stay at SS–he won a Gold Glove, it's hard to ignore that. In reality, it might not be such a bad thing, since he's getting older and the change of scenery might do him good.
S: When I think of Jeter, I think of him as one of the Yankees of the old days playing with Girardi, Paul O'Neil, David Cone, and Bernie Williams; what's your fondest Jeter moment?
A: Oh golly! There are so many great moments: the game where he chased the ball into the stands against Boston and got banged up–who can forget the speech he made at the last game in the old Yankee Stadium? Too many great Jeter highlights–gotta go to YouTube!
S: I guess that's true when you've played at the level he's played for as long as he's played. Lets talk fashion–do you prefer Jeter with the high socks or do you like when he keeps them low?
A: Definitely low. I'm not a big fan of the high socks.
S: Fair enough! Out of all the ladies he's been linked to, whom are you most approving of, or whom do you think is his ideal match?
A: His current love, Minka Kelly seems to have it going on. I'll go with her.
S: Yeah, she's been in some great shows too. Any thoughts for the coming month you'd like to leave us with?
A: I think we're going to start off slow and once the warmer weather hit's, we'll be full steam. We need to keep our pitching healthy and strong so that we don't abuse the bullpen. If we do this, we will be great this season!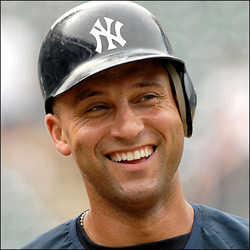 S: Awesome. We're looking forward to the season and the rest of the Alida's Yankee of the month blog series. Thanks for your thoughts!
A: Oh, me too! I have to start thinking about my pick for next month.
Have a suggestion or comment? Like us on Facebook or follow us on Twitter to join the discussion!