At Stadri, we know how creative our customers can be. The sheer volume of awesome designs they send us to make into patches speaks for itself. Some of these designs simply blow us away. Since you're all so creative with images and design, we decided we'd like to see how creative you are with words. Hence, our first ever caption-the-patch contest.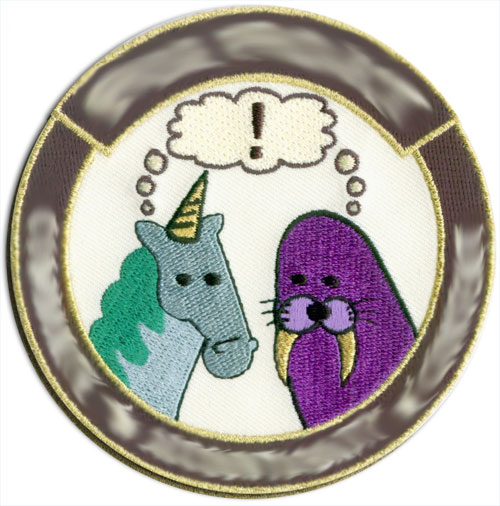 Yes, it's a simple as it sounds. Below is a real patch we've done for Warren Wilson College. The text is blurred out; we need you to fill it back in with something clever and witty—in other words, caption the patch!
What are the blue unicorn and the purple seal saying to each other?
This contest will run for two weeks. During this time, leave your caption in the comments section below. At the end of the two weeks, the Stadri staff will vote for which caption we think is the best, along with a second and third place winner.
First Prize:
The individual with the best caption will receive $100 Stadri dollars! You can use these 100 Stadri dollars any way you choose. You could end up getting a smaller order for free.
Second Prize:
The individual with the second best caption will receive one of our Fallen Heroes Commemorative Embroidered Patches in your choice of full-color or subdued, shipped for free within the continental US. (a $44.45 value).
Third Place:
The individual with the third best caption will receive 10% off his or her next order!
A little bit of fine print: Your $100 Stadri dollars can only be applied to an order you place with Stadri Emblems; they have no cash value. If you end up placing an order with a value of less than $100, the remaining balance will be applied as a discount off your following order. Second and third place prizes also cannot be redeemed for cash.
If you're especially clever and witty, you can enter as many times as you'd like, with many different captions. While this may increase the chances of your winning one of our prizes, you can only win either first, second, or third place. For example, even if you're a comedic genius and have the best three captions, you will only win first place—second and third place will go to the second and third most genius comedians.
And one more thing: Keep it clean! Our site receives visitors of all age groups.
So, what are the blue unicorn and the purple seal saying to each other?
Leave your caption in the comments below! There is no limit on the number of captions you can submit! This contest will end Friday, May 25, so get cracking on your creativity!
Like us on Facebook to follow the progress.
5/25 Update: The contest is now closed. The Stadri staff is in the process of voting on their favorite captions and calculating the winners. Our top three captions will be announced Tuesday, 5/29.
The Winners of Our Contest Have Been Determined
It looks like we finally have an explanation as to why blue unicorns and purple seals don't exist: they didn't make it onto the ark in time! This contest was very close; by a small margin, our first prize winner of 100 Stadri dollars is:
1) Paul Elshoff with the following caption:
"I can't believe it! A lousy five minutes late and Noah sailed without us!"
2) The second place caption was also awesome and came super-close to winning. Winner of our Fallen Heroes Commemorative Embroidered Patch is Eric with the caption: "Unicorn says to Seal, "No one ever plays leapfrog with me!"
3) The contest was so close that we had two third prize winners.
First is Jim Groody with "Tired of seeing us? Try A.A.!"
Next is Robert Hightower with: "I know the ark door is sealed!! See if you can squeeze thru the port hole."
Hmm . . . the Stadri staff seems to like those Noah's Ark references.
Honorable Mentions: We got so many good additions, so I thought I'd list a few great entries that came so close to making it.
"We are from the government and we are here to help you!"
"If I told you once I told you a hundred times to hurry getting into your costume. Now we missed the cruise."
"Mystical Animal Hair Club: After & Before"
"How does he eat with two horns in his mouth?" "How does he eat with his one tooth on top of his head?"
Thank you to everyone who participated. You really brightened up our Friday with your wit. If you didn't win this time, don't fret; we plan to do this again!