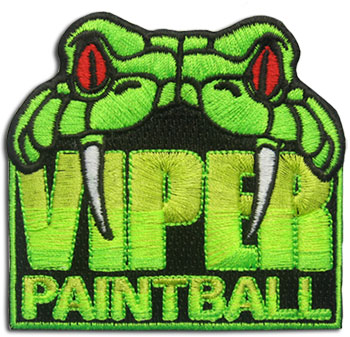 The game of Paintball, since it's creation in the 1920s, has evolved drastically. Some of this evolution is due to the many passionate fans around the world who want to play this exciting game as their part time hobby. Credit is also due to the multi-million dollar industry of great manufacturers and distributors who have made it possible to market paintball products and accessories alike.
Some great accessories are found right here at Stadri, mainly our custom made paintball patches. These detail oriented patches are of great help to seasoned Paintball players who are looking to brand their teams and/or have their teams' logos on their equipment and clothing for recognition purposes. This is especially important in tournaments, as each team has its own patch on its uniforms or equipment.
One of our favorite Paintball patches is the patch for Viper Paintball that you see here. This patch is the perfect Paintball patch for several reasons.
The detail is bold and simple. In a high-energy, fast-paced Paintball game, teammates and opponents need to be differentiated within a fraction of a second. Having a simple, non-complicated design is essential to this.
The colors in this patch are bold and bright. Much like the reason stated in the first example, bright, neon colors help a team to be easily identified. Stadri offers neon threads in multiple colors, as well as glow-in-the-dark threads and reflective twills.
This design could be interpreted as threatening, which is ideal for the atmosphere of competition found in Paintball.
A lot of people start playing paintball because they get excited about the idea and want to give it a go. Those who stick to the game for the long run reap the rewards of being part of a team that will gain recognition as it moves up in rank and popularity in the paintball world. Even more important is showcasing good sportsmanship and taking pride in being part of a team that has a name and stands together to become number one, and to really show the world the uniqueness of your team and how good you are at this wonderful sport. This is one of many reasons to have Stadri patches on your Paintball uniforms or equipment.
We encourage new and seasoned Paintball players to be active in the sport! For those of you who are interested in getting involved in the sport but don't have the budget to purchase expensive gear right off the bat, we have a solution. First of all, we only provide the lowest-priced Paintball patches anywhere. And for your gear and accessories, there's paintballgunsforsalenow.com. Between us and them, you will save hundreds!