Anyone can brag about how great they are and post great customer testimonials (provided they are in fact great and have such testimonials). Don't get me wrong--we do this too. But what if rather than simply copying and pasting hundreds of lines of boring text from dozens of emails, we also posted the images of the corresponding patches and used these as examples to better educate our audience about our services and embroidered patches in general? Perhaps that will discourage you from clicking your way out of here after the first or second testimonial. Let's get started.
Broken Bones Riding Club
I received the patches today and wanted to write a quick note telling you how pleased [I] and my club are with the patches! Really beautiful work; we'll definitely be talking to you again soon for more work. Thanks for a job well done!
Tim Preisinger, BBRC, MASS
Broken Bone Society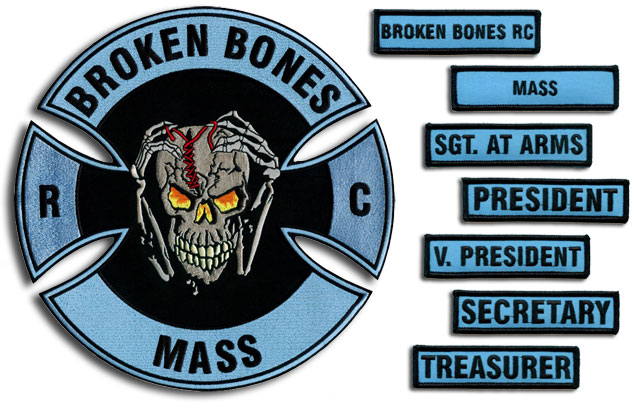 What we learn from these patches:
Large patches always look cleaner than small patches. The smaller rank patches here are only 4 x 1, and although they are very simple designs of just text, the 12 x 12 inch back patch is clearly cleaner and more attractive despite being more intricate.
We also learn that Stadri Emblems can fill all of your biker patch needs. We offer back patches, name and rank patches, top and bottom rockers, smaller patches for the front of your jacket or vest, and more.
---
Fork and Knife Patch
Awesome, I have been dealing with LeAnn for several years. She is very easy to work with, and the art department is spectacular. They take my thoughts and put [them] on paper, then a patch. I have been with several motorcycle clubs over the years and I always volunteer to do any patch that comes up, because of your staff and expertise.
Mike Ford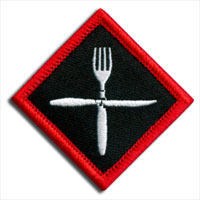 What we can learn from this patch:
This design is a perfect example of the kind of design that belongs on patches smaller than 2 inches. It is difficult to capture complicated and detailed designs with thread when the designs are extremely small, and it is impossible when certain lines and accents are actually thinner than a thread itself---a common occurrence on tiny patches. A fork and knife with no text was the perfect design for this 1.5 inch patch. While it's true that Stadri has a special knack for high-quality at small sizes and we have worked some magic in the past, simple designs for small sizes is still a good guideline to follow.
---
Tarter Farm and Ranch Equipment
I received my patches yesterday afternoon and they are absolutely perfect and fabulous. I greatly appreciate you working with me when I had received the incorrect patches. I am shipping some [of] these out today to our rodeo guys and I'm sure once they see them I will have to order many more. The patches we originally ordered locally cannot hold a candle to your excellent work. I will be telling anyone and everyone that may need patches what wonderful work you do. Again thanks so much.
Rebecca Arnett tarterfarmandranch.com

What we can learn about Stadri Emblems:
On the rare occasion there is a problem or an issue, we do everything possible to resolve it. Notice how after all was said and done, the customer wasn't left simply feeling neutral about us; she was pleased enough to leave us a positive review and recommend us to everyone she knows who needs patches. Additionally, we didn't opt to omit this review altogether just because it mentioned something negative. We aim to be as transparent as possible with our customers.
---
Iron Defenders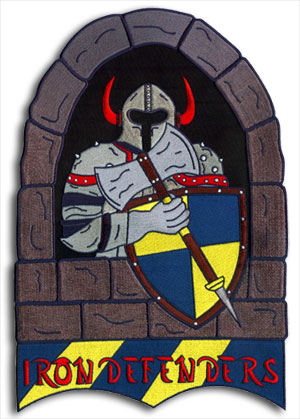 Just wanted to let you guys know our patches came in earlier this week. As always, they look great! Thanks again for all your help and we look forward to continuing business with you guys. Have a great weekend.
Tommy Iron Defenders
What we learn from this patch: I'm going to list a few random things that will bring you back to basics.
Large patches always look good---this patch is 11 x 11 inches.
Stadri can produce your patches in any shape you desire
Your text can be in virtually any font
You can save money for opting for less than 100% embroidery. This patch is 60% embroidered and looks great.
---
North Florida Presidents Council & IBM Jeans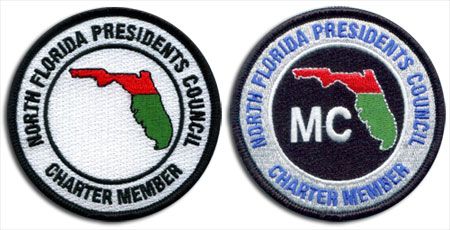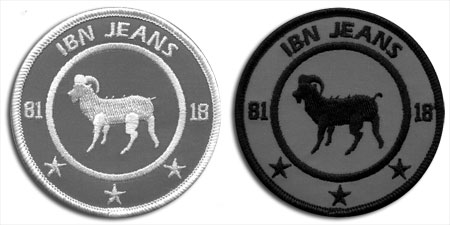 I received the patches. The members really liked the patches. The workmanship was the best they have seen. I will be giving a few of the clubs your site info, for they want to order some club patches from you.Thanks Again,
Byron Southern MC Florida Council
Just wanted to let you know that we are very satisfied with the patches you guys did for us and we appreciate all of your hard work.
I'm glad we stopped at the Stadri Emblems booth in Las Vegas at Sourcing.Thanks,
Aqil IBN Jeans
What we learn from these patches:
Stadri allows different color renditions within the same order, which could potentially save you hundreds of dollars. This applies as long as all of the other details of the design are the same and you order at least six pieces per color rendition. The IBN Jeans patches are a perfect example. The North Florida Presidents Council patches will incur an additional fee, since color is not the only variation in the two designs; however, this fee is on average five times lower than the price of two separate orders.
---
Premier Martial Arts
Just a note to tell you how much I appreciate your great service. The patches look great! It is nice to know that there are still companies that go "above and beyond" for the customer. I will definitely sing your praises in the future.
Sincerely,
Rick Arnold
Arnolds Premier Martial Arts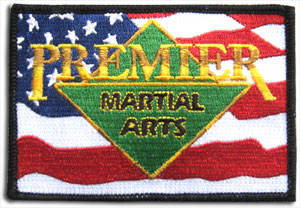 What we learn from this patch:
Using a little bit of skill and technique, the look of a gradient or blend can be achieved with threads. Notice the way three different shades of gold were used on the word premier to achieve a shaded look. Another tip: American flag backgrounds are best achieved with 100% embroidery; otherwise, the red stripes will be raised above the white---or vise versa---and this does not look natural. That advice was heeded with this patch, which is one of the many reasons it came out looking so good.
---
Tuscon Dodgeball Patches
I received the order yesterday. They are (just like the batch I ordered three years ago) PERFECT! Thank you very much! You guys are awesome and I am glad I came back. We will definitely be looking to you for our other needs down the road.
Thank you!
Steven Damon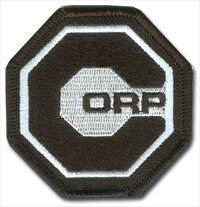 What we can learn from this patch:
Stadri Emblems keeps your artwork on file to make reordering quick, easy, and painless. We can replicate your previous orders exactly, so once you receive your new patches and mix them with your old ones, you'll have no idea they came from different batches. Stadri's patches do not fade over time, so even if you reorder years later, you still won't be able to tell the difference! One other note: merrowed borders are not restricted to circles, ovals, squares, and rectangles. While it's true that complicated shapes must be diecut, there are still several shapes that can be merrowed, as this patch demonstrates. Have you ordered patches from us in the past? Do you have praise or feedback to offer? Email marketing@stadriemblems.com.