As the warrior Buffalo Soldier cries out: "We Can - We Will - Ready and Forward Ho!"
"The Arizona Chapter of the Buffalo Soldier Motorcycle Riders is a diverse group of Sophisticated Educators, Businessmen, Retired and Former Military Personnel." Their goal is to carry on the legacy of the history of the Buffalo Soldiers ninth and tenth Calvary, and the 24th and 25th infantry from 1866-1900.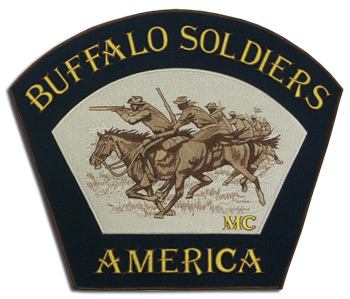 The Buffalo Soldiers Motorcycle Club patch is a large 12-inch back patch, and is worn on members' uniforms, and is also used for exhibits and displays. The shading and thread effects on the soldiers and horses are very intricate and well done. This is much more easily accomplished on larger sized patches, such as back patches.
The brown outline on the gold text creates a 3-D look against the dark blue twill background—this way, the text will really stand out n their jackets and vests. The brown merrowed border is a nice complement to the dark blue twill.
Here are a few takeaways from this patch for consideration when designing your own:
1) Intricate designs look better on large patches
2) A lot of color is not always needed to make your design stand out. Sometimes, skilled shading and blending of just a few colors makes a more sophisticated statement.
3) For a 3-D-like effect that won't break the bank, have the focal point of your design stitched on top of a solid twill fabric. Stitching on top of a fabric background creates a naturally raised look. If you are looking for a more extreme 3-D look, that is available.
4) For back patches, which need to be eye-catching from afar, make sure lettering is large, bold, and contrasting with its background.
Arizona is the mother chapter of the Buffalo Soldiers Motorcycle Club of America, because Arizona and Ft. Huachuca were the home of the ninth and tenth Calvary during the Indian Wars. Chaz Jackson is the President of the entire club, as well as the founder of the Arizona Chapter. He says that the inspiration behind the forming of the club was based on the respect between them and the Native Americans. Preserving the historic Buffalo Soldier sites, buildings, and foundations is also important to them—they offer donations and hold fundraisers and exhibitions to accomplish this. They are a non-profit organization that participates in charitable functions, such as Toys For Tots. They also donate toward student scholarships and disabled veterans.
Here's a short video about the history of the Buffalo Soldiers. Enjoy!