Our Facebook friends and Twitter followers have been enjoying custom patches I've hand picked for different qualities and shared on Stadri's social streams. I love design and talking about our customers, but Facebook and Twitter haven't allowed me to write about what drew me to particular embroidered patches or woven labels. Hand-Picked is our new blog series that will hopefully allow for more detail.
First Up: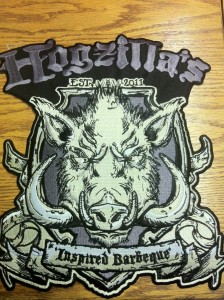 Hogzilla's:
The larger size of a back patch is great for showing fine details. Hogzilla's logo makes for a fantastic patch that makes great use of the space showing the individual hairs on the hog's head. The custom patch has a sketched look to it with purposely placed drag stitches. The menacing gaze of the hog makes me feel like Hogzilla's takes barbeque very, very seriously.
A quick aside - I did a search looking for Hogzilla's website and stumbled upon some images of 'Hogzilla' and have now given myself something to fear. The animals in America's South are legit!