---
Military patches have always been a meaningful component of Stadri Emblems.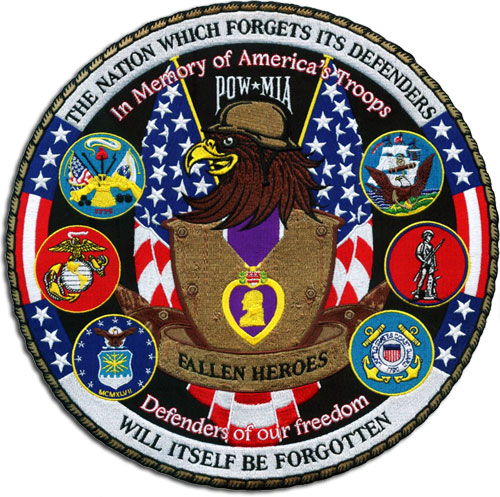 Stadri Emblems Fallen Heroes Patch-Color
Our award-winning, in-house design studio is pleased to release a special edition military patch celebrating the defenders of America's freedom.
Aptly named as the Fallen Heroes Commemorative Patch, this round, twelve-inch patch features the original logos of each branch of America's military: Army, Marine Corps, Navy, Air Force, Coast Guard, and National Guard. America's prisoners of war and missing in action are honored while the Purple Heart is prominently displayed within two American flags.
With 30-plus years of patch making experience and over 20 million embroidered patches supplied to date, our team consistently delivers the highest quality designs and craftsmanship.
This embroidered patch is a beautiful demonstration of our high standards while honoring the service and dedication of America's troops. It seems fitting to officially unveil this patch on Veterans day when so many are appreciating America's service people and families.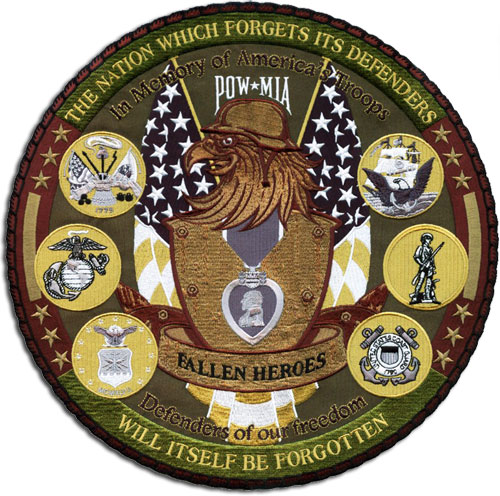 Stadri Emblems Fallen Heroes Patch-Subdued
The distinct design can be proudly displayed on a jacket or vest as a back patch, or framed on a wall, and is available in vivid color or military subdued, making a fitting gift for any veteran. Stadri's blend of quality materials and craftsmanship will remind all who see it that "the nation which forgets its defenders will itself, be forgotten" for years to come.
The Fallen Heroes Patch is exclusively designed and sold by Stadri Emblems
Individual Patch: $29.99
Wholesale: 12 pieces for 19.95 each
Distributor: 72 Pieces 14.95 each
Order here or call 1-800-679-7909
---