Science fiction readers trace the origins of the Cthulhu to H.P. Lovecraft's short story, "The Call of Cthulhu". In it, Lovecraft describes the mythical creature:
"It seemed to be a sort of monster, or symbol representing a monster, of a form which only a diseased fancy could conceive. If I say that my somewhat extravagant imagination yielded simultaneous pictures of an octopus, a dragon, and a human caricature, I shall not be unfaithful to the spirit of the thing. A pulpy, tentacled head surmounted a grotesque and scaly body with rudimentary wings; but it was the general outline of the whole which made it most shockingly frightful."
The appropriately named Miss Monster commissioned Stadri to create an embroidered patch representing the Cthulhu's status as octopus, dragon, and human caricature. Such a creature deserves to be celebrated in embroidered form, and once the artwork and sew-out were approved, the Cthulhu embroidered patch was born.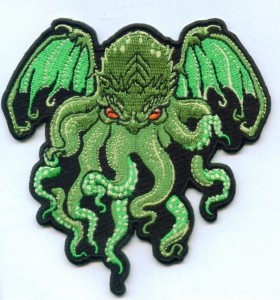 Here's Miss Monster in her own words:
Stadri: Is there a name or genre for your style of art?
MissMonster: Not sure! It sort of falls in between a few subcultures so I just call it "monster art". Haha, real[ly] creative, right?
S: It totally works! How did the Miss Monster name originate?
MM: I was trying to think of a name for my portfolio website back in college. I wanted something with "monster" but sorta girly... so "MissMonster" popped into my head and that became the site's domain name.
S: Your artwork is amazing and covers a variety of different mediums -- masks, shirts, prints, hair accessories, scarves, and embroidered patches. Is there one medium you prefer over another? Is there any catalyst for having such a wide range?
MM: I get bored just doing one medium for too long. I have always been into toys/sculpture/costumes and illustration so I couldn't just buckle down into one thing. I think my favorite medium is Super Sculpey at the moment.
S: I've never heard of Super Sculpey but it looks really cool. Is there a medium you haven't worked in that you'd like to?
MM: Metal! I have done silver casting but I'd love to get into large bronze sculpture or welding . . . but that's a far off thing.
S: Coffee or Tea? Burritos or Tacos?
MM: Tea. So much green tea . . . and burritos for sure.
S: What has been the best method for getting the word out about Miss Monster?
MM: Posting consistently online and occasionally getting lucky with large blogs re-posting my work and site link.
S: Your musings on Twitter via @missmonstermel are always good too. Have you been involved in design for a long time? When did the Miss Monster store originate?
MM: My first Miss Monster store started in 2005. I have been doing design on and off since 2003 but really got serious and had things start to move for me around 2008.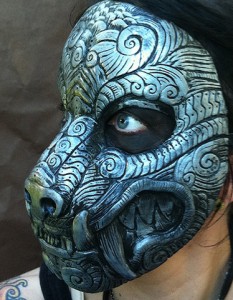 S: You have an interesting disclaimer on the use of your masks. Are there any funny stories of people using the masks in ways they weren't intended?
MM: Oh man, I don't want to ridicule anyone but I had someone write to me to tell me they were going to use my mask for safety gear in a foundry. The individual was warned about the masks low heat tolerance but they insisted that they were right because welding masks are plastic so my masks would be fine. I was so alarmed at the lack of willingness to listen I immediately posted the warning. I have had a few people inquire about using the masks for Airsoft, larping, and paintball protection so I wanted to nip that in the bud, too.
S: Seems like a really good idea; I can't imagine high heat being very good for the mask! What made you choose Stadri Emblems? Any tips for readers looking to get their own custom patches made?
MM: I was sent to Stadri from Spike who makes a comic called Templar, Arizona. As for tips, the more detailed the patch the bigger you should make it . .  though Stadri is pretty amazing at packing fine detail into a small space!
Great tip! Thanks for choosing Stadri and participating in our customer highlight. Visit the Miss Monster Store by following the link.