A subgroup to a Boy Scout troops larger whole, Boy Scout patrols have been part of scouting since its inception. Playing an important roll in boosting spirit while giving opportunities for leadership, skill development, and advancement, patrol patches often celebrate unique activities and are embroidered with some fantastic art that fits within its small space.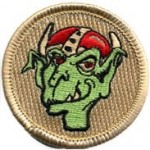 To meet the BSA requirements for uniform wear, patrol patches must be 1.5 inches round with a khaki background, khaki merrowed boarder, and use no more than three thread colors. Originally patrols took the name as animals and used colored ribbon or leather as an identifier. Over time, silk-screened patches replaced the ribbons until finally embroidered patches where introduced. Historically, patrols were encouraged to place adjectives in the patrol names to personalize and help build troop spirit.
Animal identifiers are still used but there are a number of other creative identifiers using objects, food and beliefs. These patrol patches can often fall outside of the BSA regulations using colorful twill and more than three thread colors. In some corners of the Internet, there has been a lively debate about whether troops should break BSA regulations. Some leaders believe that the regulations are clear and shouldn't be broken while other leaders feel they can gain troop unity and morale. No matter what side of the debate, when troops participate in competitions where uniform inspections will occur, those not using patrol patches to BSA regulations may be docked some points.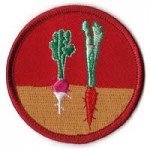 Even if the patrol patch isn't to spec, the small size offers a great medium for any message. The popularity of patrol patches with those who don't participate in scouting has increased recently. The Urban Land Scouts use patrol patches in an effort to educate about the human relationship to plant life and Mother Nature. Nerd Merit Badges celebrate quirky accomplishments like an empty email inbox and fixing broken printers. I've seen designs for coffee patrols, Mr. Potatohead patrols and cow bell patrols. Patrol patches are a fun way of celebrating just about anything.
What is your favorite patrol patch? What's a patrol patch you'd love to have made?
This post first appeared on the InsaneScouter blog on 10/4/11