I get a little overexcited about the fantastic designs that Stadri makes into embroidered patches. From reading my blog posts, you may know that out of all the styles of patches we produce, patrol patches are my favorite by far. Hopefully, you've also picked up on the value I place in the story behind what led to creating a customer's patches. When patrol patches with pleasing designs and a great story come together, a small dream comes true.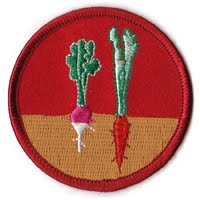 Urban Land Scouts are a group that has made my silly dream into a reality. A scouting group for those who wish to become better stewards of the environment, Urban Land Scouts are a catalyst for thinking about an individual's interaction to nature. Urban Land Scouts challenge its members to learn, interact, and share knowledge about the natural world, while earning some incredibly awesome patches. Its creator, Katie Ries, was kind enough to answer some questions about Urban Land Scouts; how she designed her patches, and what exactly a seed bomb is.
Stadri: Why did you start Urban Land Scout?
Katie: The Urban Land Scouts were born out of trying to reconcile the idea of our luxurious modern lives (smart phones, junk food, plane travel, lots of cheap potable water, etc.) with the desire to be a good steward for the land (and people) who provide the things we enjoy. I wanted to find a middle ground for urban people who are looking to live sustainability, but were not realistically going to renounce the products and services of their life. The scouting hierarchy of levels and badges provides both incentive and a trajectory. The Urban Land Scouts won't make you a sustainable citizen, but hopefully we'll help you learn the tools to start down that path. 
S: Personally, thinking about how sustainability fits into my actions has enabled me to make small changes in my day-to-day life. The incentive and path clear a huge barrier that allows people to see how easily changes can be made. What has been the most surprising aspect?
K: How easy it is to start your own scouting group. The badges make it legit to people in a way it could not be if I were just talking about the project.
S:High-five for patches! What is a seed ball, and why is it important?
K: A seedball (sometimes called a seedbomb) is a small pellet made with a mixture of compost, clay, water, and seeds. The clay and compost carry and protect the seeds until rain dissolves the ball. Then the seed germinates and hopefully survives to become a full-grown plant. Seed balls are great because you can lob them places you might otherwise not be able to access, and they preserve the seeds in place until there is enough water.
Seedballs are a great project to make with young people, because you can teach about seeds and what they need to germinate. It's also fun to make things with your hands and get dirty.
S: There is a sense of accomplishment when working with your hands! Are the 10 levels of Urban Land Scout done in order?
K: We recommend that everyone start with Level 1: Observation.  The levels are designed to take more and more time, skill, and patience as you progress through them; but you can do them in any order. There are tentative plans for another tier of patches for more accomplished or younger scouts.
S: The patrol patch is my favorite style of embroidered patch because of its size and simplicity. How did you decide on designing yours?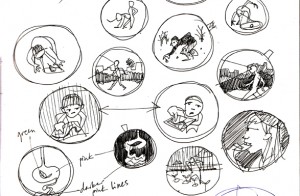 K: After I identified the levels I wanted to have, I sketched a lot about the thing I was trying to get across and how to simplify that idea into a compact image. I went to the Boy and Girl Scout stores in my towns, and looked at patches. My original drawings were way too detailed for the scale of 2.5" patches, and it was a great challenge to drill down the ideas to icons. I especially like how the Level 6 badge turned out; it's got a log with a B on it (for Blogging), whereas Level 3 ended up looking like flying chocolate chip cookies instead of seed balls.
S: We often recommend taking a ruler and experimenting with where the patch will be used, to help get the size of the embroidered patch just right. You had a great resource close by. What can people do to become an Urban Land Scout?
K: The first step is to go out and observe the natural world as you find it. Spend a minimum of 30 minutes just walking around and looking at the land where you live. What grows there? What trash do you find? Where does water flow through? Who uses this place and how? Write about what you see, and send your observations to passage[at]urbanlandscouts.com.
S: Are there any educational resources you offer, or any plans offering them?
K: This past summer we held Urban Land Scout day camps for middle school students. That experience made me want to refine the levels and tasks to be more appropriate for 5th and 6th graders. This fall, my friend and fellow Urban Land Scout Ash and I will be running a session of Junior Urban Land Scouts with one of the Boys and Girls Clubs in Knoxville. Our goal is to get the program into a more exportable and repeatable form, like a .pdf or a small booklet.
S: I'm sure that would help spread the Urban Land Scout message even further. I noticed you switch the gender of the Urban Land Scout back and forth between the statements on urbanlandscouts.com. Why is that?
K: I was trying to write the value statements in such a way as to include women and men, and it seemed easier and more graceful to switch back and forth instead of writing "s/he" each time. While we're on the subject of differences and being inclusive, the Urban Land Scouts are open to all people.
A big thanks goes out to Katie for taking the time to answer our questions and choosing Stadri Emblems to make her custom patrol patches. Looking to become an Urban Land Scout? You can learn more at www.urbanlandscouts.com and see more great illustrations here.