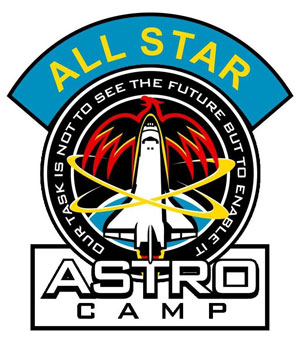 Astro Camp consists of summer space camp programs and a field trip site for classroom teachers. Astro Camp Utah services a little over 10,000 students per year from grades K to 6th.
According to their website, "Astro Camp will create an environment that promotes educational achievement, encourages goal setting, teaches teamwork skills, and builds self esteem by providing unique hands-on learning experiences and positive role models."
The project that would go on to become Astro Camp was started in 1989 by Ed and Lois Douglas inside Lynn Elementary School.  Lois created a hand-made lab from agricultural plastic and PVC pipe and called it AlphaLab. It was a hit, and the students started to desire an even more complete experience. They were able to get funding for the project by The Lynn Elementary School PTA and contributions made by local businesses. They began to run a week-long program in the summer, which was headed by Ed Douglas. Because of increased demand, programs were then held at the Swanson Environmental Center in North Fork Canyon. It was at this time the program was renamed Astro Camp.
The program was growing so quickly that even the Environmental center at the new camp location could no longer contain it. Dr. Jim West, superintendent of Ogden City Schools, offered the use of a building on the school district main campus. This building needed to be renovated, and the community soon stepped in. Parents, friends, family, and school district employees volunteered their time, and the building was transformed into a full-blown space camp in just three short months.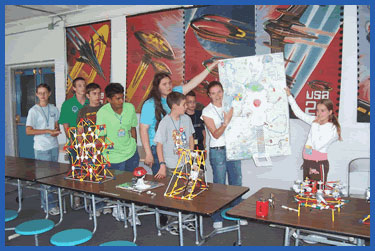 Astro camp still went on to expand, and they now offer various camps; some being Academy Camp, Astronaut Training, Cadet Camp, Explorer Camp, Galaxy Camp, Physics Camp, and Voyager Camp.
They also do mission simulations, where four teams of eight form to face staged emergencies and challenges that must be solved in order to complete the mission. These missions are a great opportunity for campers to cultivate their teamwork skills. After each mission, evaluations are completed in order to prepare campers for improved performance on their next mission.
Custom embroidered patches are given to students who graduate from one of the summer camps.  As the students continue to go back to the camp, the graduate level increases and a different patch is awarded.  There are also special patches for the All Star Team and Top Team. Ed Douglas, Director of Astro Camp, also designed a 20th Anniversary Patch. He says he wanted to give students something unique, which would help them remember experience at summer camp as well as something that would be collectible.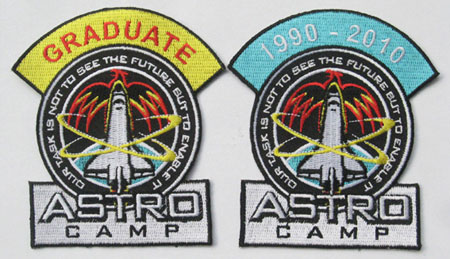 The Astro Camp patches are diecut and 100% embroidered, with attached rockers. Having such small text on a four-inch patch, they are a fine example of Stadri's superior ability to achieve intricate detail in small sizes. Even with the patch image shrunken down, it is possible to read the phrase, "Our task is not so see the future but to enable it."
To learn more about Astro Camp, visit AstroCampUtah.org.
To view more camp patches, visit Stadri's Embroidered Patch Gallery.