At Stadri we ship out thousands of custom patches per week. One of the most regretful things is the fact that we don't get to see where all our cool patches end up and how they're used. But tracking all our customers' patches would be a full-time job in and of itself.
If you come here regularly, you've probably noticed a common theme dominating our blog lately: Customer Highlight. In January of this year, we sent out an email to our 5,000+ email list subscribers offering to feature them on our blog in exchange for information about how they use their patches as well as images of the patches in use. The response was overwhelming.
While we expected to hear some unusual and entertaining stories along with some useful images, we never expected this totally awesome video of a Stadri patch being featured in a TV commercial.
So, what is this commercial all about?
In 1993, two individuals, Davin Brainard and Warren Defever started a record label in Livonia Michigan, called Time Stereo. On this label, they released music they themselves made as well as music made by friends and associates from all over the world. Through the years Davin's interests shifted from music to visual arts and the name Time Stereo began to refer to his visual art output.
Davin has been using clouds in his art for many years, and as a result clouds have become synonymous with his work. Dion Fischer, a close friend, wanted to board-up some vacant houses in his neighborhood and he asked Davin to help paint the wood with clouds. Several more vacant houses were boarded up with clouds, and the image became a symbol for that neighborhood in Southwest Detroit.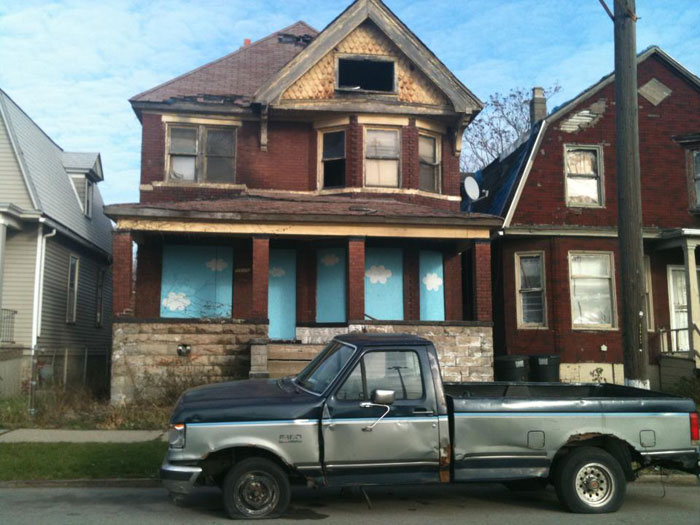 In June 2010 the city of Detroit then asked Davin to repaint a bridge that was covered with graffiti, so naturally he used his signature clouds. He teamed up with Dion Fischer and two organizations, WGB-UP and Southwest Solutions, to create what they call the "Cloud Bridge Mural" on West Grand Boulevard.
West Grand Blvd–United For Progress (WGB-UP) aims to board up vacant homes, clean up yards, and paint over graffiti; Southwest Solutions provides community living in beautifully restored apartments and townhouses.
The mural seemed like such a simple project—painting a single bridge, but the idea took off and clouds started appearing all over the neighborhood! So for the spring of 2011 Davin created the cloud patch, which he refers to as "a bright shiny symbol of support for Detroit and the southwest side." Davin created these patches to help promote his artwork as well as Southwest Detroit. He gives the patches away as promotional items and sells them on his website for only five dollars, and donates one dollar from each patch sold (100 so far) to community programs led by Southwest Solutions.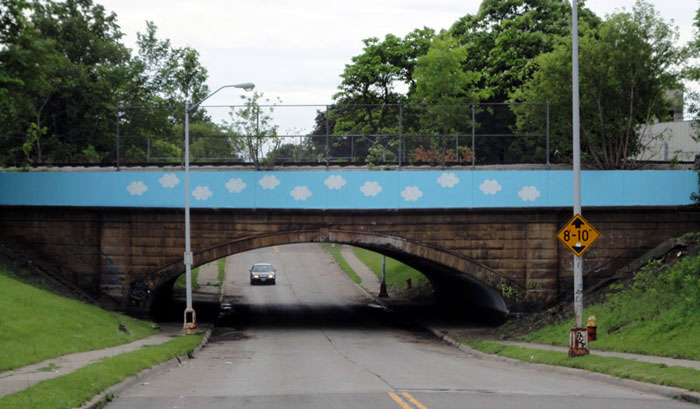 "A friend from Woodstock, NY told me about Stadri Emblems and I was very happy with the patches that they produced," he says.
This three-inch, 100% embroidered patch contains iron-on backing, which allows for easy attachment to any natural fiber–a good option for these patches, since Davin is selling them to individuals who may want to do varying things with them. The cloud was stitched directionally, adding depth and dimension, although being only one thread color.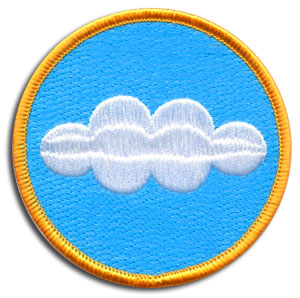 Being 100% embroidered with an added backing gives the patch durability—a beneficial feature, considering the fact that one of the patches rode all though the streets of Detroit on a bicycle, withstanding harsh winds and bumpy roads, and based on the video, was almost eaten by a dog!
"Bicycles and bike culture has become very popular in Detroit, so when we wanted to make a promotional video we just put a cloud patch on the front of my bike and rode around the city," Davin reveals.
Sadly the video is no longer available