The Echelon House is a philanthropic project led by the fans of rock band 30 Seconds to Mars. Working with Habitat for Humanity internationally, it helps build homes for families in need around the world.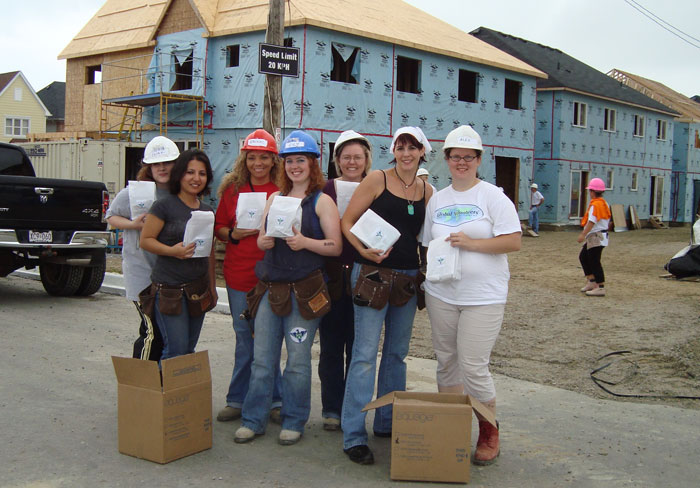 Lily Sebert, now the founder of The Echelon House, never expected her idea to take off the way it has. In 2008, 30 Seconds to Mars partnered with Habitat for Humanity in their hometown of Los Angeles, auctioning off a spot to be able to volunteer and build a house with them, with all money going to Habitat. Inspired by the idea, Lily started a thread on 30 Seconds to Mars' official message board, encouraging people to volunteer with Habitat For Humanity in their local areas. That same day, it was discovered via the Habitat Hopebuilders site, that houses could be 'built' as a group online. With the encouragement of other fans, Lily decided to sign the Echelon up as a group, thinking that maybe they would be able to complete a house if everyone worked together.  Much to everyone's surprise, within a week, they had completed their first house and were working on their second.
It has now been four years since the project's beginning. The project has gone from being fairly small to becoming a large, global endeavor, which includes volunteering, creative fundraising projects, merchandise, and donations, to name a few. Next year they plan to expand further, as well as continue to increase their current endeavors of building houses for those in need.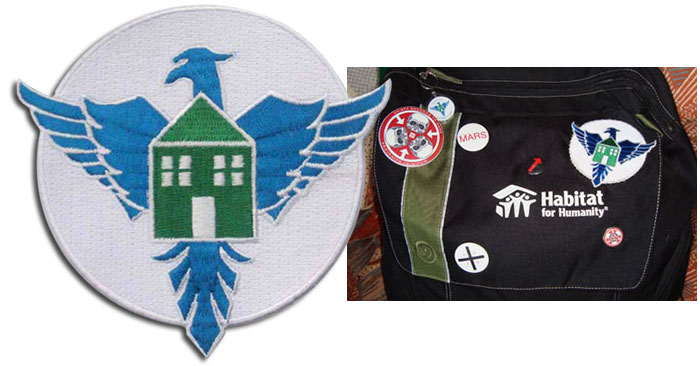 As of June 2012, The Echelon House has just completed their 29th house, and to date has raised over $57,000 for the project.  "To think that so many families have roofs over their heads because of our work is humbling, to say the least," comments Lily.
Although not an official project of their own creation, the band has been supporting the project since the beginning. The lead singer Jared donated £1000 (around $1700) out of his own funds during the disaster in Haiti, and even promoted the project on national television.  The band continues to support the project on their social media sites and through their online newsletters.
To sum it all up, Lily says, "At the end of the day, it's about making a difference. Our philosophy is that it doesn't matter how much money you give, or even if you give anything at all. You can be a supporter in many ways, and with all of us working together, we can accomplish a lot."
The Echelon House's patches are used both as fundraising tools, with all profits being put toward Habitat for Humanity, as well as for helping to spread the word to others about the project. They are great collectors items too!  "I wanted something our fans could buy that would be versatile, great quality, and really represent our identity," Lily explains. "As a project with no budget (other than mine!), it was really important to have merchandise that could be purchased at a fairly small amount, would be relatively inexpensive for fans to purchase, and a wide range of people would like—and of course, one that didn't completely break my bank account!  The patches were such a success that I am planning to order more sets of patches from Stadri Emblems with our new logo in the near future."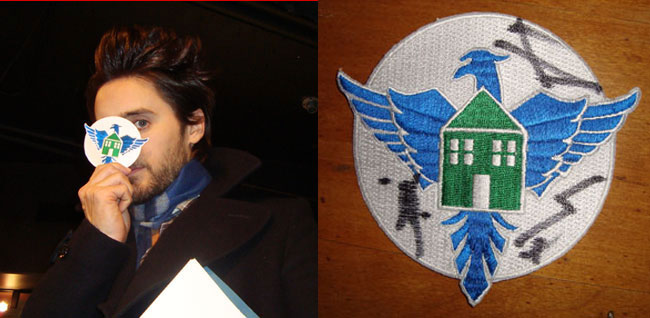 In the image above is Jared Leto, the lead singer of 30 Seconds to Mars. He saw the patch sticking out of Lily's purse and really liked it, so she gave it to him and he let her take that photo!
"The band has all been really supportive of the project, which has been great," Lily says. "In the above photo is actually a picture of one of the patches the whole band signed for me to use to raise money for the cause.  I just want to thank the folks of Stadri Emblems for being gracious and helpful in our patch-purchasing process."
Further Reading:
http://act.mtv.com/posts/the-echelon-house-build-homes-in-haiti/
http://30stm.org/echelon-projects/vote-for-echelon-house-at-shorty-awards/