Very little gives us more satisfaction than knowing our patches are being used for a worthy cause, especially those involving children. Stadri is very proud to provide patches to hundreds of charities around the country. Here we will feature two such charities, tell you a bit about their patches, and help you determine whether custom patches are right for your charity.
Rose Brucia Educational Foundation
The Rose Brucia Educational Foundation is a is a 501(c)3 nonprofit organization whose goal is to reduce the number of child abductions in America by educating and empowering young minds with the knowledge necessary to avoid abduction. The foundation was founded by Matthew J. Barbis when his 11 year-old cousin, Carlie Brucia, was abducted and murdered in Sarasota, Florida in 2004.
Matthew says his real inspiration behind forming the foundation was the life-changing effect of watching his family suffer. "Carlie's abduction was highly publicized and now stands as a call to action for families and individuals everywhere to stand up to child predators!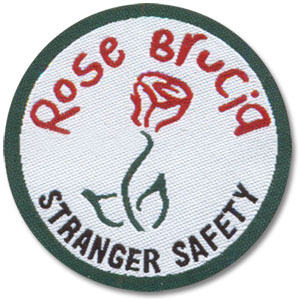 The foundation raises awareness in two main ways. One is by visiting elementary schools and performing, utilizing puppets and simple self-defense techniques. They also participate in the Stranger Safety Awareness Program, which stresses three fundamental concepts: awareness, safety, and trust. The program keeps students active and engaged by means of a multimedia platform. These programs are free to every parent, teacher, and school district in the U.S.
The patches you see here are meant to be stranger safety badges for Girl Scouts to sew onto their sashes upon completion of the educational lesson regarding stranger safety. They are woven patches; therefore, even at 1.75" the quality is outstanding. Text comes out very clean on woven patches—as you can see from the "Rose Brucia" text, specialized and small fonts are rarely an issue.
---
Rusty Johnson and Nets For Niños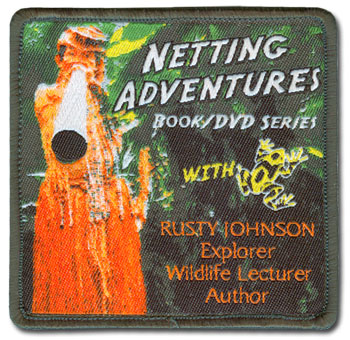 Rusty Johnson is an explorer, wildlife expert, author, and keynote speaker, having given over 3,000 lectures at venues such as Princeton University and The New York Botanical Gardens. He specializes in ecotourism, adventure travel, research, documentary filming, and environmental and humanitarian projects, making many trips to villages in South America and Africa, where he leads expeditions and delivers medical supplies, dental-care kits, clothing, and life-saving malaria nets. The most notable of these humanitarian projects is Nets for Ninos, which delivers mosquito nets to families in the Amazon region with the hopes that they can begin to protect these children from Malaria.
From the first time we heard about Rusty and his passion for protecting the children of the Amazon from malaria, we knew we wanted to do all we could to support his work; therefore, Stadri donated $1,000 to the cause, which provided nets for 100 children. In addition to donating the money for the nets, Stadri designed, free of charge, a set of woven patches and silicone wristbands to help Rusty promote his Nets for Ninos program in local schools and on his popular lecture circuit.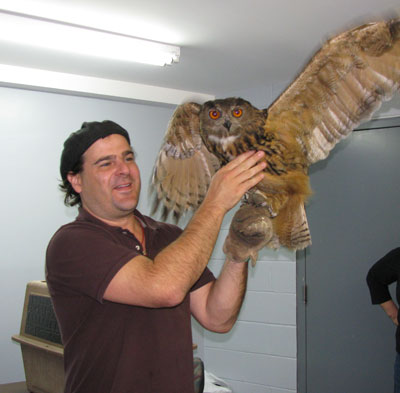 Rusty stops by the Stadri Emblems headquarters and educates the staff about various types of wild birds.
Stadri's involvement in this initiative is part of an ongoing business commitment on the company's part to give back to the global community through charitable donations and promotional support of various causes.
What do you think? Are custom patches appropriate for your charity? Have you considered designing a set of patches and making them available for sale, with all proceeds going toward your charity? People love wearing embroidered patches, especially when these patches showcase their involvement or support of a cause they're passionate about. Give it a shot; get your free quote now.