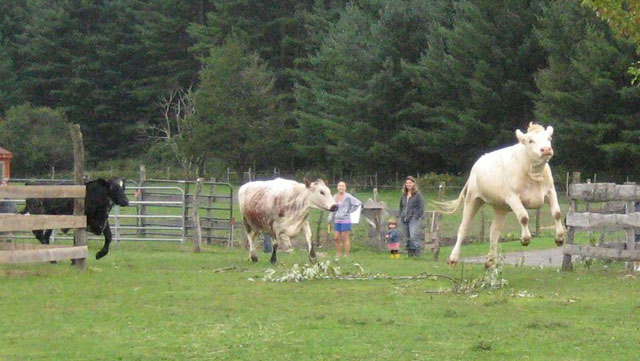 "Kayli the cow lifted completely off the planet for a few seconds out of sheer joy of being in a new pasture." Courtesy of The Woodstock Farm Animal Sanctuary
Nestled within a small borough in the Catskill Mountains just outside of Woodstock, NY, is a delightful sanctuary for farm animals, rescued from cases of abuse, neglect, and abandonment—mostly from factory farm slaughterhouses, but also from the streets of New York City. Known as the Woodstock Farm Animal Sanctuary, this sanctuary provides refuge and shelter to cows, pigs, sheep and goats, chickens, turkeys, ducks and geese, and even a lone mule.
Most of the staff at Stadri Emblems are passionate animal lovers, especially Kynan, our General Manager, who is heavily involved in animal rescue. When a neglected or abandoned kitten, puppy, squirrel, bird, or rabbit is found, she's the one who gets the call. These types of popular animals are well-loved by most and get much support. However, I got to thinking: what about all those animals that don't cross our path or register on our radar from day to day?
I recently had the privilege of volunteering at the Woodstock Farm Animal Sanctuary and getting to interact with these animals first hand. The experience proved to be both humbling and eye-opening. It's amazing how many of us go through life completely disconnected with these amazing creatures. Who knew a pig is the third smartest animal on the planet or that the term "mother hen" sprung from the fact that hens are such devoted mothers and enjoy the task so much that, if given the opportunity, they will adopt and care for bunnies, kittens, and even whole litters of puppies?
Stadri Emblems is launching a campaign to support these animals (lasting until the end of this year), and we need your help!
Here's what you can do.
1) We are planning to sponsor an animal, but which kind of animal should we sponsor? Tell us in the comments whether you want us to sponsor a chicken, rabbit, duck, goose, turkey, goat, lamb, pig, or cow.
2) We are also planning to sponsor additional animals. For every additional 50 Facebook likes, Twitter followers, or newsletter signups we receive, we will sponsor an additional animal.
3) If you're particularly moved by the pain and suffering of these neglected animals, you can sponsor an animal directly.
So please, act now, and we'll help more and more of these animals in need. We'll even make it extra easy for you. Help these animals with one click of your mouse!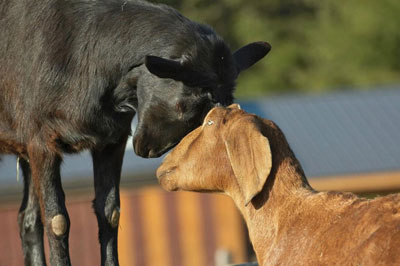 For every animal we sponsor, we'll receive a photograph as well as information about our animal's life story. So check back to see if the animal you vote for gets sponsored!
From now until the end of the year, all donations made to the sanctuary will be matched by a generous donor.
Please effortlessly help Stadri Emblems make a difference in the lives of these amazing animals!
Additional Information:
Woodstock Farm Animal Sanctuary Website
Woodstock Farm Animal Sanctuary Facebook Page
This campaign will last until the end of 2012 or until we reach 1,000 likes, whichever comes first.