Because of its long life, great strength, and majestic looks, the bald eagle was chosen as the emblem of the United States of America on June 20, 1782; it was then believed to exist only on this continent. It has long since been one of the country's most recognizable symbols, being representative of National Pride.
The Eagle is one of the most popular choices to represent military units and motorcycle groups alike. Here we will display five of our favorite eagle patch designs.
---
Black Eagle A.B.A.T.E.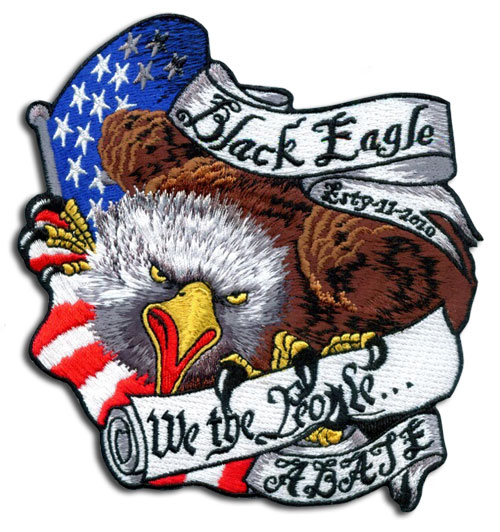 A.B.A.T.E. stands for American Bikers Aiming Toward Education. ABATE of Montana is a not-for-profit organization dedicated to preserving motorcyclists' freedom of choice and freedom of the road. They are a social membership-driven organization whose main goal is to protect motorcyclists' rights and to promote motorcycle safety and awareness.
This 100% embroidered, nine-color, diecut patch displays how the look of shading and dimension can be achieved successfully—given the overall patch size is large enough.
---
Operation Injured Soldiers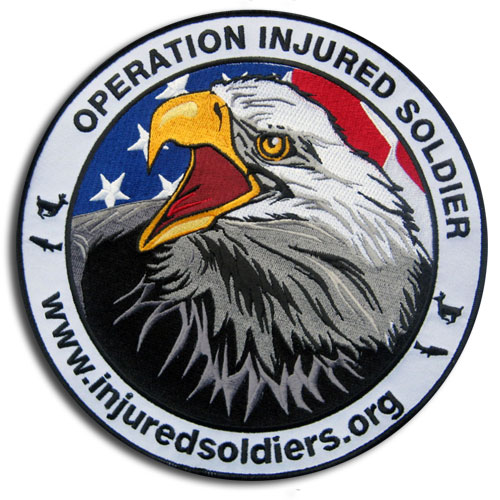 Operation Injured Soldiers was founded by a veteran of the war in Iraq who was wounded in the line of duty. During his recovery, he dreamed of helping other veterans with disabilities get back to the normal activities of life, such as participating in sports and hobbies they enjoyed before being deployed, including hunting, fishing, sporting events, and camping trips, along with many other outdoor recreational activities—the goal of these being to help with the soldiers' physical and mental rehabilitation.
This patch is less than 100% embroidered; the white area behind the text is twill, and the center design is all stitched. Tip: for large areas of sold color—particularly those behind text—a less than 100% embroidered patch can often look as good as a fully embroidered patch, but is less expensive.
---
Semper Pro Bono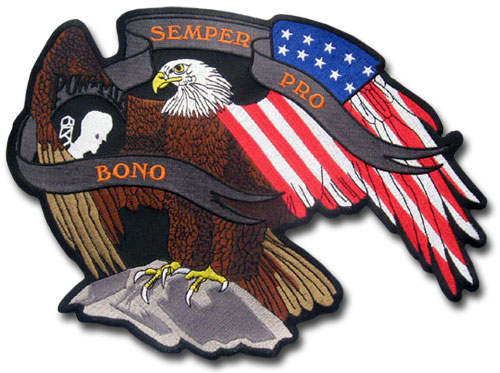 This beautiful diecut patch honors the memory of our prisoners of war who are still missing in action. All of the design is stitched except for the black background. Take special note of the awesome detail achieved on the eagle's body.
---
Central Valley Star Riders
The International Star Riders Association is a Northern California Based group dedicated to enjoying the open road and great fellowship with others who enjoy the same thing. The association has over 32,500 members worldwide.
This patch is 10.5" overall, allowing it to be super clean and sharp; even the small ISRA logo is legible. We're particularly proud of the level of detail and crispness achieved in the eagle's wings.
---
Warriors Motorcycle Club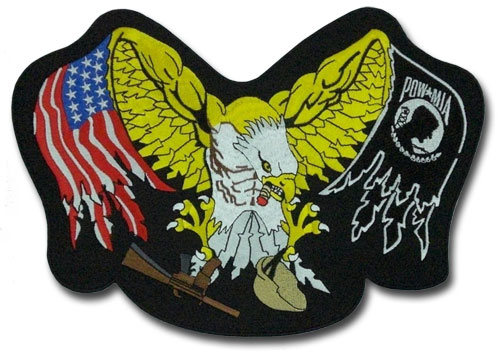 A very creative way to, while riding, honor our missing prisoners of war: an eagle with tattered flags as wings. We can't say for sure, but it appears this eagle has a six-pack; and the tops of its wings sure look like muscular human arms. This patch has a black twill background and utilizes nine colors.
---
Would you like to order customized eagle patches of your own? As you can see from the images above, Stadri offers the highest quality possible, but did you know we also have the lowest prices anywhere?