From eagles to engines, to flags and flames, designs for motorcycle patches are some of the most interesting we see here at Stadri Emblems. But which theme is the most common of all?
About one in every four biker/motorcycle patches we do here at Stadri contains a skull or a skeleton. Whether the skull is the focal point or a piece of the whole, it is by far the most popular theme for biker patches, aside from embroidered images of actual motorcycles themselves. And even then, it's a close second.
Seeing as the skull theme is common enough for us to see a different skull patch every day, we figured it was high-time to write about it and show you some of our awesome creations. Obviously, there are far too many; therefore, we've decided to showcase the ten most creative ones we've seen lately.
---
#10 - Skull With Flame Hair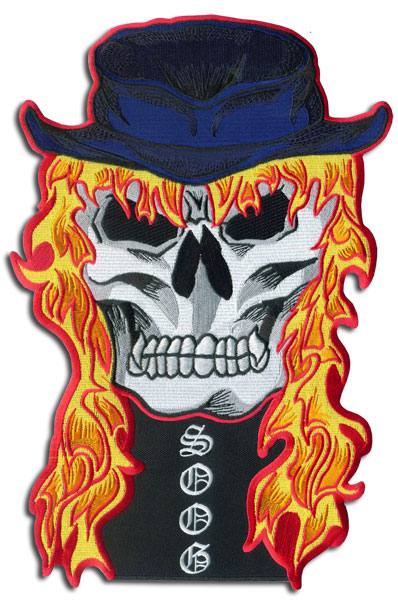 Skulls are common, and skulls with flames are quite common as well. But as for a skull with flames as hair, this is the first time I've personally seen this. The bangs and the hat are a nice touch--quite amusing.
---
#9 - Demon Slayers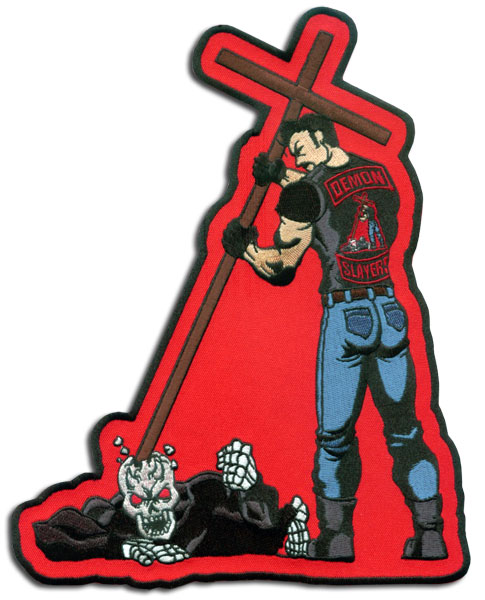 Most motorcycle clubs that feature skulls or skeletons in their patch designs do so in a way that makes the skull representative of their club. This design completely flips that concept around. As you can see by the biker's back, this club is called the Demon Slayers
---
#8 - Skull as a Grenade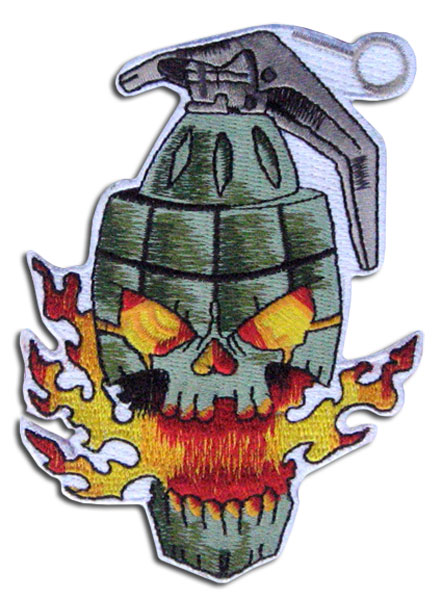 This is the first time I've seen a skull as a grenade. I also couldn't help but notice the great gradient shading effect we were able to achieve on this patch. It's a good example of Stadri's quality and workmanship.
---
#7 - Skull Made From Engine Parts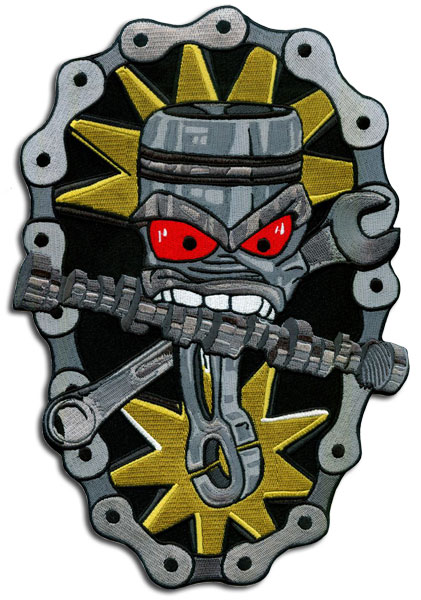 While I've seen many skulls surrounded by engine parts and even some with engine parts in their mouths, I've never seen one actually made of engine parts. Would that still be considered a skull? I thought so, but if you disagree, tell me why in the comments.
---
#6 - Pirate Skeleton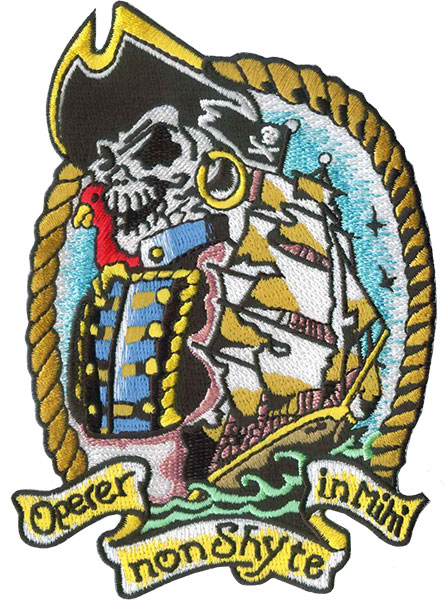 OK, so skeletons in the context of pirates may not be the most unusual thing, but we love the artwork of this particular patch, as well as the stylized stitching.
---
#5 - Demented Skull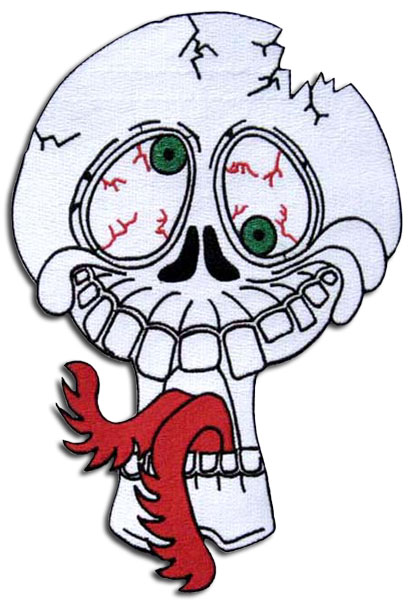 Most bikers opt for the scary/possessed look for their skulls, but what I like about this is the fact that it's completely demented. It shows a little humor, and suggests this group doesn't take themselves too seriously.
---
#4 - Man-Robot Skull Patch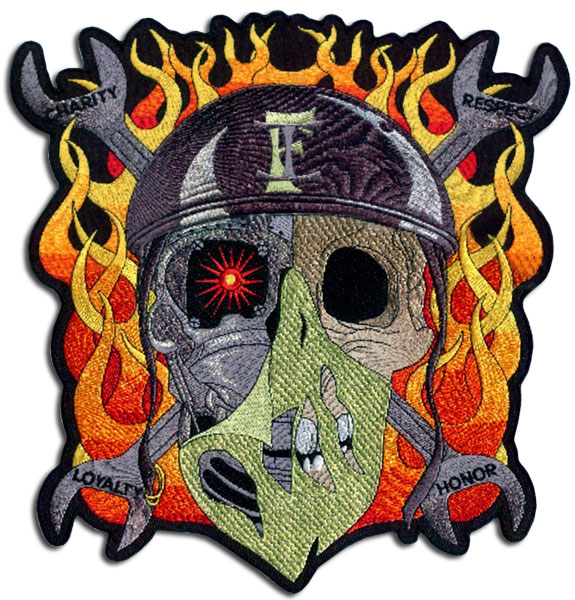 As already mentioned, flames and wrenches are nothing new, but the detail on this skull is certainly unique. It appears to be half human, half robot, among other things. And I cannot help but once again be impressed by Stadri's shading and color-blending.
---
#3 - Child-like Skeleton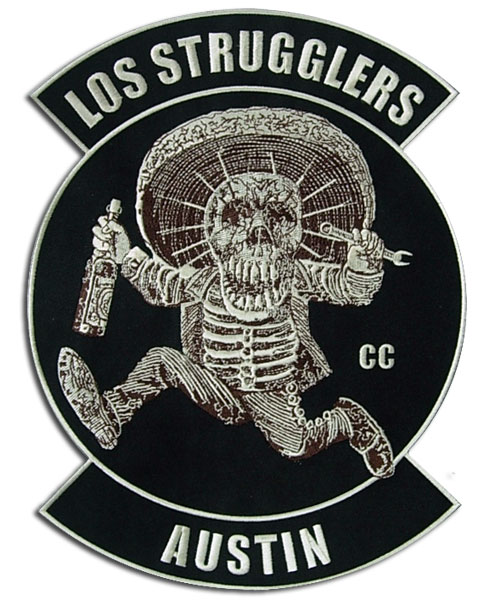 This is most definitely the first time I've seen a child-like skull or skeleton. The fact that it's wearing clothing and holding a bottle of whiskey further adds to its uniqueness.
---
#2 - Skull of Unknown Origin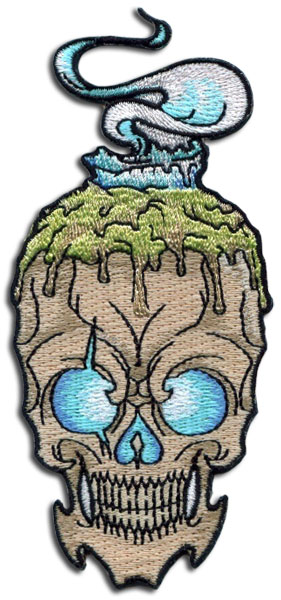 It's not too often that our customers explain the meaning behind the designs they send us, this being a perfect example. Is that smoke coming out of its head and slime dripping down? If you have any idea what is happening in this patch, I'd love to hear about it in the comments.
---
#1 - Confederate Skull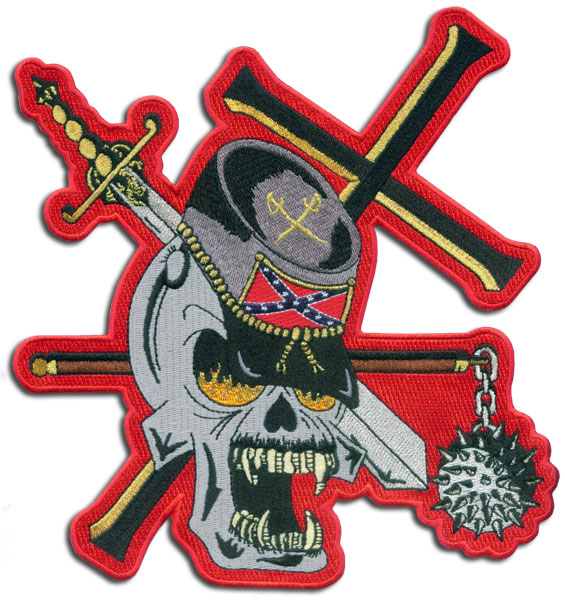 This patch has it all: a strange-looking skull, scary teeth, flames, flags, swords, clubs, and a Confederate hat. The stitching is perfect too, don't you think?
---
What's the most unique design for a skull motorcycle patch you've ever seen? Do you have something more unusual than we show here? Leave a link in the comments. I'd love to see it!