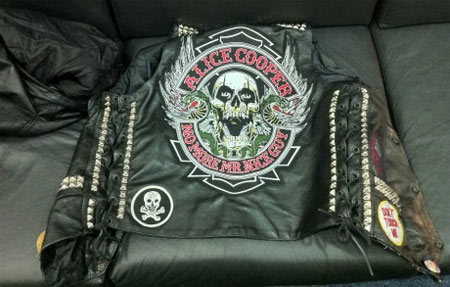 After only two weeks, Alice Cooper's "No More Mr. Nice Guy" South American tour got off to a rocky start, and we're not talking about the music. First, the singer fell ill and had to cancel his first show in over 30 years. He came back and gave one of his most explosive shows to date. But then, after the third show went off without a hitch, things took a turn for the worst when in Brazil his drummer Glen Sobel's vest was stolen, right after the band had completed a sound check.
"But it's just a vest—why can't he simply buy another one? Even if it's expensive, he's rich," you may say. Well, this vest was not expensive—it was priceless. What made it that way? You guessed it: his custom-made vest was adorned with custom embroidered patches.
Alice Cooper had custom embroidered patches made for himself and his crew specially for his "No More Mr. Nice Guy" tour, as you can see from the image to the left. It is a large back patch with a skull in the center and attached rockers identifying it as Alice Cooper's "No More Mr. Nice Guy" tour. Not only that, but the front and back of the vest are apparently decked-out with other embroidered patches the drummer has collected over time.
The crew considered this vest to be one of the more special vests, since it was one of only five that contained an identifying custom back patch. On top of that, the band wore these vests on-stage during shows, and according to Alice Cooper's personal assistant, each of the back patches was unique.
The singer has offered a reward for the vest's return. Alice Cooper's personal assistant KC has issued the following statement: "If you see anyone wearing or trying to sell a vest similar to this . . . Alice is offering a great reward to the honest person who returns it, no questions asked."
This is just one of many examples of the kind of value embroidered patches can add, especially when they are custom made for a specific organization or group. Bands and musicians usually have patches made either for the band members or crew, or to sell to fans as tour merchandise. Some bands have even included custom embroidered patches in special edition versions of an album, with a limited number being available. These patches go on to be valuable collector's items.
Stadri has supplied many band and musician patches over the years. Just to name a few: Gwar, AC/DC, Cannibal Corpse, Dropkick Murphy, Phish, Ashanti, Sum 41, and Fall Out Boys, and many more. Do you have any band patches in your personal collection? Let us know. We'd love to check them out and see how you use them! Source