As the marketing guy for Stadri  Emblems I don't get the same customer contact that a sales consultant does so I often miss out on some pretty awesome projects. I was lucky to have Brokenhearted Guardians come onto my radar early on–they were looking for a back patch with top and bottom rockers and had the artwork posted on their Facebook page. After the sales consultant ended the initial consultation, I friended them not knowing what an amazing group I was about to watch.
Still in its infancy as a group, Brokenhearted Guardians isn't a traditional motorcycle club. They don't have a territory nor do they discriminate because cancer doesn't discriminate. Brokenhearted Guardians put power into their words with action, here they are in their own words: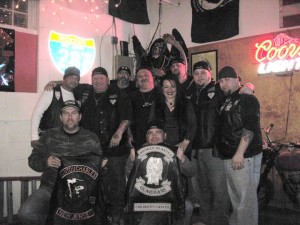 Stadri: Road name or rank?
Brokenhearted Guardians: Founder and President, Pat Johnson
S: I've been following you on Facebook for some time now and I've been impressed with the love and joy you project. Where did the inspiration come from to start Brokenhearted Guardians?
BHG: Two events were primarily responsible for the creation of the Brokenhearted Guardians. A friend's son battled with cancer for three years, and sadly lost his battle last month. Seeing what he endured and witnessing what his family went through was heartbreaking. I also recently rode this past October in the EMS Angels' Bike Run in Memory of Tanner Dohrman, which raised money for Alex's Lemonade Stand.  Something clicked and I decided that I wanted to do something that served a real purpose and something to help children based on recent events. I realized that it was time to give back as I have been blessed with healthy children. Many people have preconceived notions that all bikers are rough, tough, mischievous anarchists. While that may be true for a few, the majority of us are brothers and sisters just like you and me. We all love our families, we all love our country, and we all especially love children. The biker community can always be counted on and always steps in to donate and support local charities.
S: I agree with that. I've even heard of a book coming out about how giving motorcycle groups can be. How many members does the crew have, and where are you based out of?
BHG: We are a new organization based out of Bayonne, NJ.  Our numbers are small to start, but our core group is strong and very dedicated to this cause. We are limiting our club membership to 25 members the first year, but welcome all supporters who are interested.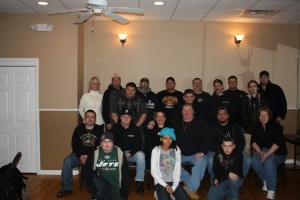 S: You're already halfway through your first year! What sort of activities does the crew participate in to raise awareness for childhood cancer?
BHG: We are currently making our presence known. We are raising funds to buy gifts for children hospitalized with cancer, and pantry goods for their families caring for them while hospitalized. We also are showing our support for other Children's charities.
S: If there was one takeaway you want the world to have, what is it?
BHG: The pain and suffering of children afflicted with cancer, and the same pain shared by their families.
S: Bike?
BHG: 2003 Harley Davidson Dyna Superglide
S: Soft tail, nice! Where is the most amazing place you've ever ridden and/or favorite route?
BHG: LOL.  There is no such thing. Every ride and any route that you take on your bike is amazing. Each ride is the spirit of the soul.
S: With an attitude like that, it's hard to have a bad day! How did you find and decide to order your custom patches from Stadri Emblems?
BHG: We looked at a lot of places on the internet, but kept coming back to Stadri Emblems. We loved what we saw and knew that Stadri, based on the other work, could produce exactly the caliber we were looking for.
S: What's next for Brokenhearted Guardians?
BHG: We plan to keep moving forward. Our fundraising efforts will grow in the days ahead. We would like to branch out and support other local area hospitals. Simply stated, we want to bring as many smiles to children's faces as we can.
S: Anything else you'd like to add or I missed?
BHG: One thing that I'd like to stress is that while many of us share a passion for riding, we are not an MC. A few of our members do not ride and we do not want people to think that it's all that we're about. We welcome support for the cause whether you ride a bike, a car, a tricycle, a wheelchair, or a scooter. We want people to check us out on Facebook or on our website (www.brokenheartedguardians.com) to learn more and to learn how they can help.
S: Thanks for taking the time to respond to my questions. I have a lot of respect for the work you're doing and I'm excited to watch the rest of the Brokenhearted Guardians story play out. I'm also psyched to buy one of the t-shirts I spied on your Facebook page!
Do you know of an organization or group that you feel should be highlighted? Leave a comment or contact us via Facebook or Twitter!