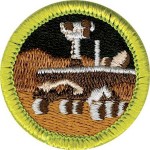 An important part of a Boy Scout's journey, merit badges have been around for over a 100 years. The scouting handbook says "A merit badge is an invitation to explore an exciting subject. With more than a hundred to choose from, some merit badges encourage you to increase your skill in subjects you already like while others challenge you to learn about new areas of knowledge." Since merit badges are another term for embroidered patches (and Stadri is all about embroidered patches) we've got them everywhere!  Here are some random statistics I've collected regarding merit badges:
14
- Merit badges in the BSA's initial list in 1910 – they didn't produce or award any them that year.
57
-  Merit badges the BSA officially manufactured and awarded in 1911.
11
– Of the original 57 that have the same basic design as when they were introduced.
140
– The maximum amount of merit badges available at any one time.
126
– Amount of merit badges available as of December 31, 2010.
161,252
– Bugling merit badges earned between 1911 and 2001.
21
– Total merit badges a scout must earn to achieve Eagle Scout rank.
12
- Number of
required
merit badges a scout must earn to achieve Eagle Scout.
10
– Major types of merit badges.
4
– Legs on the Bee in the Beekeeping merit badge from 1914-1938. Bees have 6 legs.
1
– 'Spoof' or patrol patch that became an actual merit badge - Scuba Diving.
142
– Record for amount of merit badges earned by one person.
4
– Historic patches offered during the Boy Scouts Centennial.
113,638,951
– Total merit badges Boy Scouts earned from 1911 to 2007.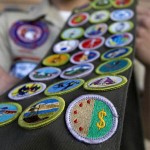 Completely random huh? What merit badge facts do you know? Comment on here,
Facebook
or
Twitter
! I used the following websites to compile the random facts:
www.scouting.org
www.bsatroop780.org
www.meritbadge.info
www.en.wikipedia.org
www.sageventure.com
www.troopcrew180.org
www.patchlodge.com
The Boy Scout Handbook