Sometimes it's a challenge to keep my excitement at bay when I see all the amazing things our customers create. On occasion we get a sample or a finished creation in the mail with our embroidered patches, woven labels or any of the 79,998 (no joke) other products we produce adorned to it. Usually our contribution is a small piece that helps to make up the overall project but the passion and dedication to a craft can be very contagious when working with a customer. Late last week we received one of these very cool and very unique projects.
'Banners of Love' was created out of a basic need, a great idea and the drive to achieve the Girl Scout Gold Award. Since it's creator, Juliana was nice enough to answer some questions, I'll let her explain what a Banner of Love is:
Stadri: Your idea is a great one; what was your inspiration for starting the project?
Juliana: My cousin was injured during October of 2009 in Afghanistan after his truck ran over an IED. Once he was flown back to the states, he received care at Walter Reed Army Medical Hospital in Washington, D.C.. Although my family lived a good 3-hour drive from D.C., we wanted to be with him and his wife through the hard times, but we knew that was unrealistic given the distance. When our work and school schedules finally worked out, we went down to visit him. His hospital room was very small, and not very welcoming for someone that would be living there for the next 11 months. He also moved hospital rooms frequently, so once he put up pictures of family and friends, he would have to take them down again. I thought that by creating a "Banner of Love" he could easily have a place to put pictures and cards from loved ones. After I gave my cousin his banner, I though of all the other wounded warriors that could use a place that could remind them that they are always loved, and will never be forgotten.
S: Sadly, I'm sure your cousins story isn't rare; about how many banners were you able to distribute?
J: Once everything was finished, there were probably over 160 banners. My original goal was 150.
S: Wow, that's a lot of materials! Did recipients respond how you expected?
J: I did receive an email from one recipient that made the whole project worth it. A soldier's wife said that they currently had pictures of their two daughters on it, and was so happy to know that people still cared about them. Knowing that I could help someone that has kept our country safe made everything worth it.
S: Were you able to achieve the Gold Award?
J: I was able to achieve the Gold Award. I received the honor on January 10th, 2011.
S: Oh, Congratulations! Anything quirky you weren't expecting?
J: Hmm. During the project I had my fair share of frustrating moments but each one was worth it. Here are some highlights:
-I found myself skipping my lunch to go work on the project in the library.
-Sewing machines can't always be trusted.
-NEVER...and I say never, have a man glue letters on to felt without expecting it to be crooked!
-GPS is very helpful in finding a Girl Scout leader's house after you realized that right turn you made an hour ago should have been left!
There have been lots of quirky moments during this project, but like I said before, each one was worth it. When I began my project, I had an interview with the Girl Scout council (they must approve the project before I can start) and they didn't believe that I would have people so willing to help. I was expecting I would end up making 150 banners by myself, but instead had over 50 volunteers come out and help throughout the project - that was very unexpected!
S: Its great you were able to get so many other people involved and giving. Why did you send a Banner of Love to Stadri? (Not that we don't absolutely LOVE getting cool things!)
J: Well, I hope you noticed that the woven label on the bottom right hand corner is a Stadri product! I just thought it would be nice to show your company that by helping me with the woven labels, you helped show our veterans that they are loved and we are so thankful for their service to this country.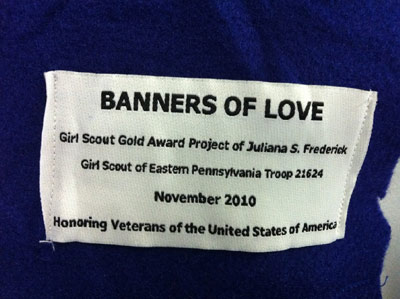 S: We thought that was a nice woven label! Thanks for sending us your finished project and answering my questions, your project came out great and I'm sure brought joy to countless people! Congratulations on earning your Gold Award.
We put up our Banner of Love within minutes of opening the box. Our plan is to attach all the thank you notes we receive from customers so we have a daily, motivating reminder.
Do you have a project that used a Stadri product? Let us know or post it to our Facebook page; we'd love to highlight your work!