Earlier this month, Stadri Emblems launched a campaign to support the Woodstock Farm Animal Sanctuary. Promising to sponsor a previously neglected or abused animal for every fifty Facebook 'likes' we received, in a mere two days we got enough 'likes' to participate in what is called the Sanctuary Seven, a discounted sponsorship of an animal from each species on the farm: a chicken (or rooster), a rabbit (or duck or goose), a turkey, a goat, a sheep, a pig, and a cow! Below you can read all about Stadri's sponsored animals and their distinctive personalities.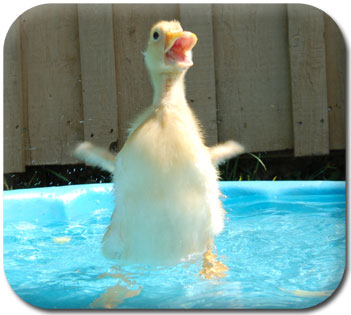 Quincy the Duck
Quincy is a Pekin duck. She was found when a friend of the Sanctuary was in a New York City park and noticed someone letting a tiny yellow duckling loose near a pond. Sadly, it is not uncommon for people to misguidedly purchase ducklings and other baby animals as gifts for birthdays or Easter, only to get rid of the animals after the holiday. The friend of the sanctuary, knowing that the little duckling would not fare very well all alone and would be completely vulnerable, intervened. She told the people about Woodstock Farm Animal Sanctuary, and convinced them it would be the compassionate choice for the teeny bird's new home. When Quincy first arrived, she had never been in water. She now has a pond in which to swim and frolic all day long, and has fallen in what looks like love, to us humans! Ducks are very chivalrous animals, and another resident duck, Teddy, took an immediate liking to Quincy. The two have been inseparable ever since, and can always be seen together preening, swimming, or enjoying the sunshine.
---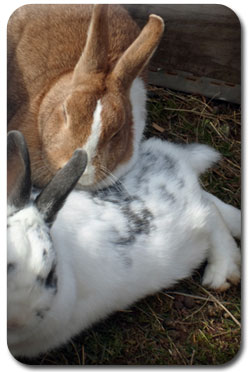 Daphne the Rabbit
Daphne was abandoned on the side of Glasco Turnpike, which just so happens to be the road the Stadri Emblems headquarters is located on. A family of tourists saw her hopping nervously along the busy road, and stopped to save her and brought her to the Woodstock Farm Animal Sanctuary.
Daphne spends her days out in the specially-designed bunny area of the sanctuary. Daphne is very fast, and enjoys thumping and running about. Frisky and clever, she delights in playing what looks like a bunny version of hide-and-seek with her friends. The photo to the right shows Daphne snuggling in for a nap with her friend Appoline.
I haven't noticed Daphne any of the times I've volunteered at the sanctuary, but I will be sure to keep my eye out next time I go. Maybe I'll even take some adorable pictures of my own and post them here for you to see.
---
Ophelia the Hen
Ophelia was abandoned and left in a supply compartment on a New York City fire truck. When the firemen found her in the truck's compartment, they called animal control, who in turn contacted the Woodstock Farm Animal Sanctuary. Ophelia has since been enjoying life there and loves to have her feathers stroked. Reportedly, she'll sit on your lap or nestle in next to you for some quality hanging out time, if you'll let her!
A couple a weeks ago I was trying to get a wheelbarrow through the gate to one of the chicken enclosures, and while I was doing that, all the chickens ran right under the wheelbarrow and got free! I must have looked very silly chasing a dozen chickens around the property only to be told, "It's OK if they get out. They're birds. They can just fly over the top of the fence any time they want."
---

Beatrice the Turkey
Beatrice came from a commercial turkey farm, but was spared the usual fate when she was purchased live and given as a Thanksgiving gift to a man who ended up being unable to care for her.
Since Beatrice arrived at the sanctuary, staff and volunteers have been charmed by her friendly and affectionate nature.
I've personally had quite extensive contact with Beatrice, because she loves to follow me around and watch me work. She'll frequently nip at my gloved hand, hoping to find food there. She always seems quite satisfied when I stop what I'm doing and take time to pet her.
---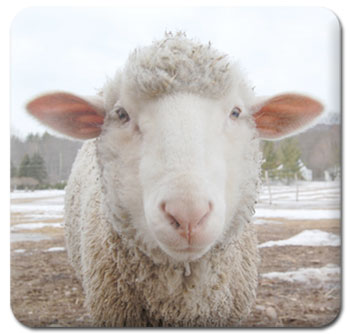 Ashton the Sheep
Ashton is a handsome and gentle sheep who was found at only a few months old running along the streets of New York City—a clear indication he had escaped from one of the hundreds of live animal markets that exist hidden from public view throughout the five boroughs.
When he first arrived at the sanctuary he was extremely sick and had to be kept under strict quarantine for the first few weeks. Thankfully, with the loving care he received he regained his health completely.
He is a large sheep who is protective of his friends, and is often seen grazing and playing in the field. He is also the group "look-out," and is the first to approach visitors with his inquisitive nature and sweet face.
I'm not very good with sheep; they all look the same to me. But one thing I did notice when I was there is the fact that they were all very timid and skittish—all but one, who walked right up to me. I wonder if it was Ashton.
---
Star the Goat
Star is actually an intersexed goat, whom we'll refer to as a she. Star was owned by a farmer looking to "get rid of" her because she was of "no use to him." She was adopted by a local actor who already had two goats at his Hudson Valley residence. After a few years, Star's buddies passed away, and Star became very lonely and depressed. While the sanctuary doesn't normally take animals who already have good homes, in this case Star's emotional quality of life was being affected.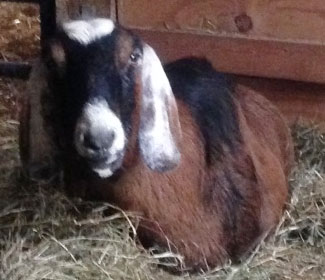 Star is one of the most friendly animals on the farm and has free reign of it, wandering where she pleases. She loves to be brushed and readily seeks out attention from other goats, as well as turkeys, visitors, and even cats! She is my absolute favorite animal on the farm. We bonded the very first day I volunteered there. I was cleaning the goat barn and she followed me and stood next to me wherever I was, for the entire time, just looking up at me. Star is a breed of goat normally killed for meat, and when I took the time to stop and pet her, I looked deep into her eyes, pictured her on someone's plate, and was almost moved to tears.
Every time I go to the sanctuary, I now make it a point to go over to Star and say hello, but this is hardly necessary, as she always finds me! Just last week I was cleaning out her part of the barn. It took me twice as long to do, because Star was right behind me the whole time and kept nuzzling her head into my back, trying to get me to pet her. Of course, I stopped and gave in many times in that two hour period. Whenever I'm away from the sanctuary, I miss her. I feel about her the way most people feel about dogs and cats.
Above is a photo I took last week of Star just chilling in the barn.
---
Curly the Pig
Curly was an "item" up for auction, listed as a "slaughtered pig" prize. Basically, the winner would get to choose a pig from a "free-range" farm, and the pig would be slaughtered for him/her. One family was so horrified by this that they bid the highest in order to save the piglet. The six-year-old member of the family, Samuel, was drawn to the smallest piglet and chose her to be the one who was saved. He named her Curly Tail after one of the characters in his favorite story, The Pig's Wedding.
Initially terrified, within less than 24 hours Curly was accepting belly rubs and showing off her beautiful markings. Curly is making many new human and pig friends at the sanctuary and loves to root in the fields and muddy areas during the day.
While there, I have seen a very adorable pig that is smaller than the others and has darker hair. I'm pretty sure it is Curly.
---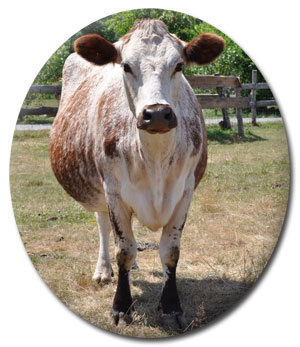 Maybelle the Cow
Maybelle was used as a display in a milking exhibit of a New York business that features people dressed in period costumes showing what 18th century colonial life was like. After four years, the staff decided to terminate the milking exhibit and reached out to the sanctuary in an effort to find Maybelle a home.
When Maybelle arrived on a sunny January morning, she and another resident cow, Kayli, started pushing their heads together hard—a way cows play and establish who's boss. They turned out to be an equal match, and soon became the best of friends, running around the pasture together, munching contentedly on grass and accepting plenty of love from human friends. They can always be seen together, grooming each other, playing, basking in the sun, and roaming their pasture with their new friend, Mike Jr.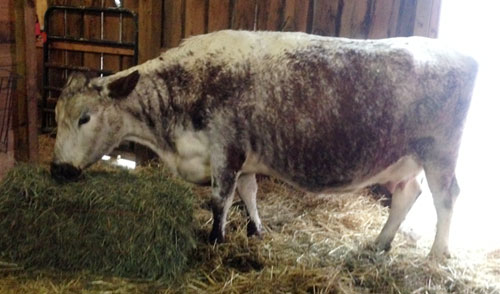 Above is a picture I took of Maybelle eating hay in one of the barns. She was only there a short while before Mike Jr. came in and joined her.
Up close Maybelle looks so beautiful and peaceful. She is the type that makes people instantly fall in love with her.
---
We will be sponsoring a few more animals in the near future, as we got a few additional sets of fifty likes over the Sanctuary Seven requirement.
There is still time to give even more animals the opportunity to get sponsored. This campaign lasts until the end of the year, so if you haven't yet 'liked' us on Facebook, you can do it right now.
In our previous post, a few of you requested that we sponsor Diane, the mule. There does not seem to be an option on their website to do this. I'll have to ask them about it the next time I go there.
The next time I volunteer, I'll be sure to seek out the rest of our animals and take plenty of pictures and post them here for you!