In recent times, California has been facing some truly devastating tragedies. On November 7th, a senseless shooting claimed the lives of 12 people at the Borderline Bar and Grill in Thousand Oaks. A day later, the now infamous Woolsey Fire started mere miles away, destroying parts of the city of Malibu and many high-profile homes, as well as inland communities from Oak Park to Calabasas. That very same day, the Camp Fire broke out hundreds of miles to the north, and has since become deadliest and most destructive fire in California history, burning 153,000 acres of land. Nearly 14,000 homes were destroyed, and at least 85 lives were lost.
In light of these horrible events, the Girl Scout Troops 63042 and 63041 of Thousand Oaks California decided to do what they could to help the victims of these horrible tragedies. They are selling their "Stronger T.O.gether" embroidered patches for $5 each. 100% of each patch purchase will be donated to the families who've lost their homes in the fires, as well as the families of the victims of the Borderline shooting. Stadri Emblems had the privilege of donating the first 1000 patches to the cause.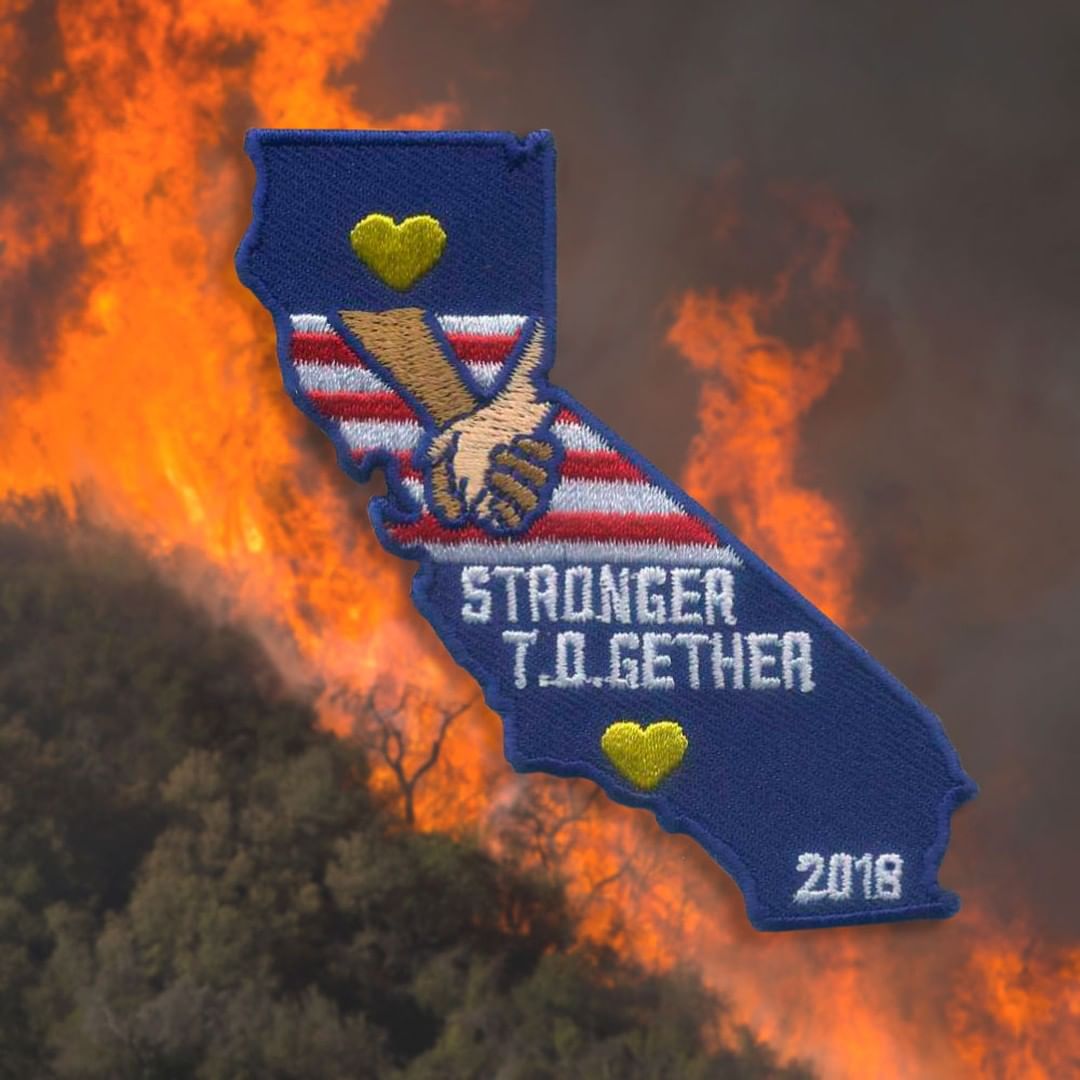 Every November/December, some members of the Stadri Emblems staff head out to Los Angeles to exhibit at the Patches & Pins Expo. Stadri's Director of Marketing, Marisa, heads up this endeavor. After exhibiting at each yearly expo, she stays in LA several extra days for leisure, this year being no exception. This year's destination? Hiking the Santa Monica Mountains near Malibu. Some places on her itinerary included Malibu Creek State Park, Paramount Ranch, and Cheeseboro Canyon, to name a few. Two days after she booked her hotel in the charming little town of Calabasas, the Thousand Oaks shooting took place. The day after that, the Woolsey Fire ignited, obliterating everything on her destination list one at a time.
"It was more rattling than I ever would have expected to hear about all the places I had specifically planned to visit going up in flames, as well as the town my hotel was booked in experiencing a mandatory evacuation," she says. "I cannot even imagine the devastation experienced by those who lost everything. California is my favorite place in the world to visit and has always had a special place in my heart. So when I was approached by Troop 63042 with the opportunity to help out on behalf of Stadri Emblems, there was no way I was going to pass it up."
Please consider picking up a patch to support this worthy cause. Every little bit adds up to make a huge difference for the victims.