We are excited to announce that we are now offering rainbow plated metal pins to our customers. Rainbow plated pins are definitely one of the coolest options for pins that you can get. Their incredibly eye-catching and vivid appearance will make your pins stand out from the crowd.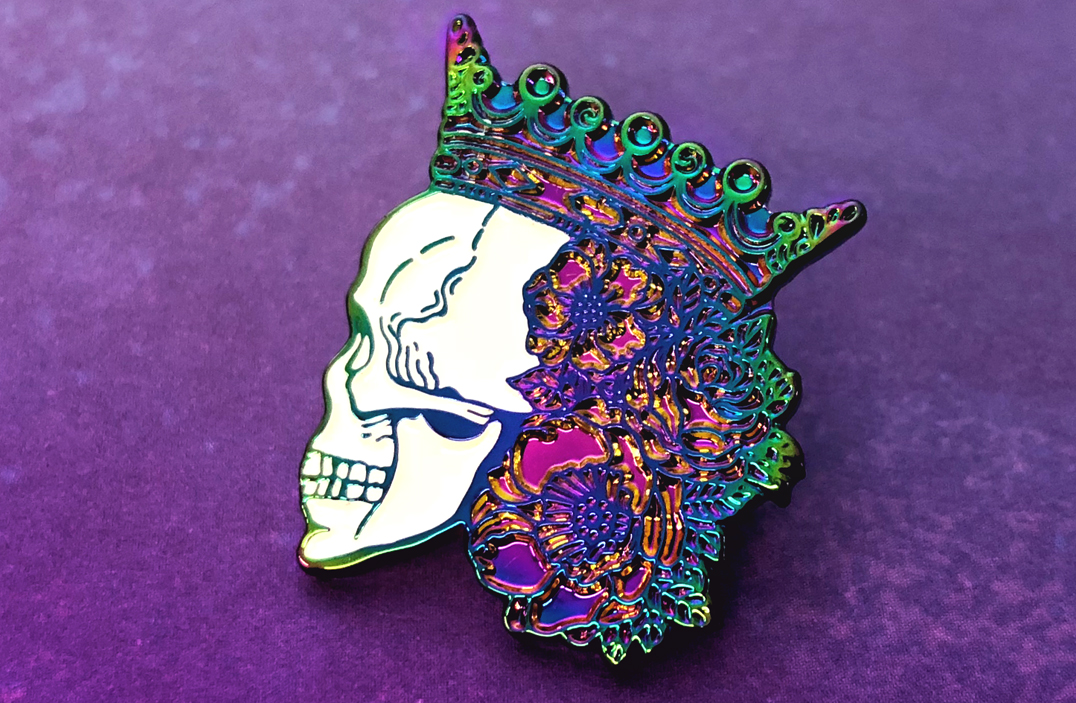 Each rainbow plated pin is unique.
Rainbow-plating pins come in a spectrum of colors that radiate outwards. The colors shift and change depending on how long the process is applied to the pin. It will start out blue, then change to yellow, pink, purple, teal, and green. If you order a batch of rainbow pins, expect to see a variety of colors on each individual pin. One pin may be mostly purple and another one may end up mostly green!


This is the spectrum of colors that you can expect to see on rainbow pins



Adding enamel is optional.
With other types of metal finishes, designers usually pick out a few enamel colors to add to their pin. With rainbow metal, some designers are opting to forgo the enamel all together. The choice to add enamel or not is entirely up to you. You can add any colors that you'd like but, most commonly, we see rainbow pins with simply black or white enamel added in certain areas. This gives some contrast to the rainbow metal, and is usually used to highlight certain parts of the design.
This process is only available with soft enamel.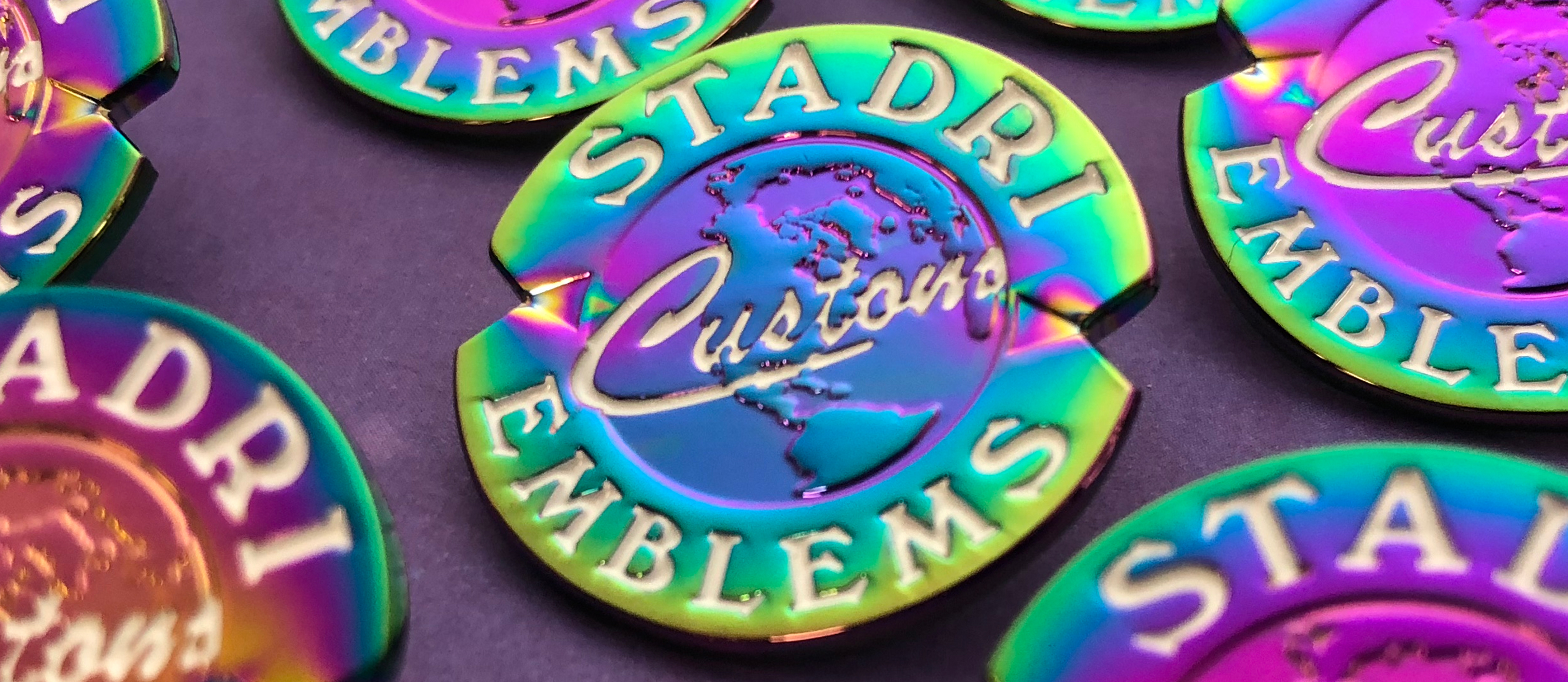 For our logo, we chose to add white soft enamel in the text portions to make them stand out.
The process is called "anodizing"
The rainbow effect is achieved by a process called anodizing. First, metal pins are cast in a mold, just like any other. Before any enamel is added, the pins are carefully cleaned and prepared for the anodizing process. A chemical solution is created, and the pins are submerged into it. A grounding wire is then attached to each pin, and an electrical charge is then passed through the metal with a wire. The chemical reaction with the electricity creates an amazing rainbow effect on the metal. This process only needs to be done for a few seconds to change the metal's color. Applying the electricity for even half a second more can drastically alter the metal's color. The final colors of the metal are determined by how long the electrical charge passed through them. The pins are then washed of the chemical solution, then the enamel is added, if needed.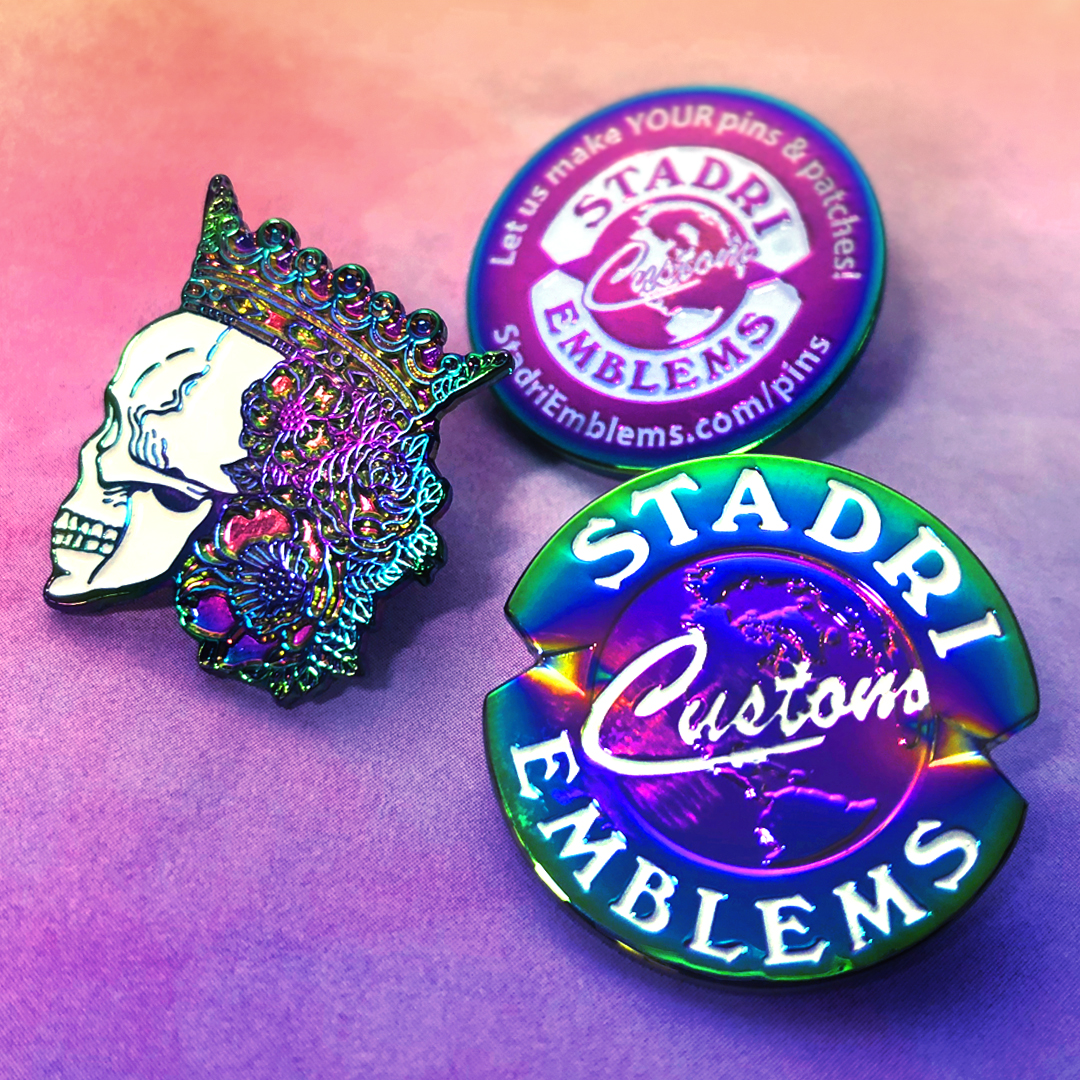 They have a minimum order quantity of 25.
Just like our other pin types, you don't have to order a large minimum quantity. You can get as few as 25 rainbow-plated pins per design. Get a free quote online right now, and start making amazing rainbow-plated pins!
If you are interested in making other types of pins, make sure to read our other blog posts about
making your own enamel pins
, as well as the
differences between hard and soft enamel
.