Crowdfunding is a great way to fund projects that have a significant up-front cost. Many independent artists have used crowdfunding to generate the funds for their pins and patches. It may seem intimidating to start a campaign, but it doesn't need to be. As long as you are prepared, it can be a great experience.
Why choose us?
We want to help independent artists and designers however we can. Our staff has had personal experience with crowdfunding their own designs, and we want to pass our experience on to you. We also are willing to be your first backer. We may even promote your campaign on social media to help fund your goal. (Promotion of your designs on our profiles is at our own discretion.)
Take a look at this guide, and if you're interested in getting started, send us an email so we can continue to support you through the process.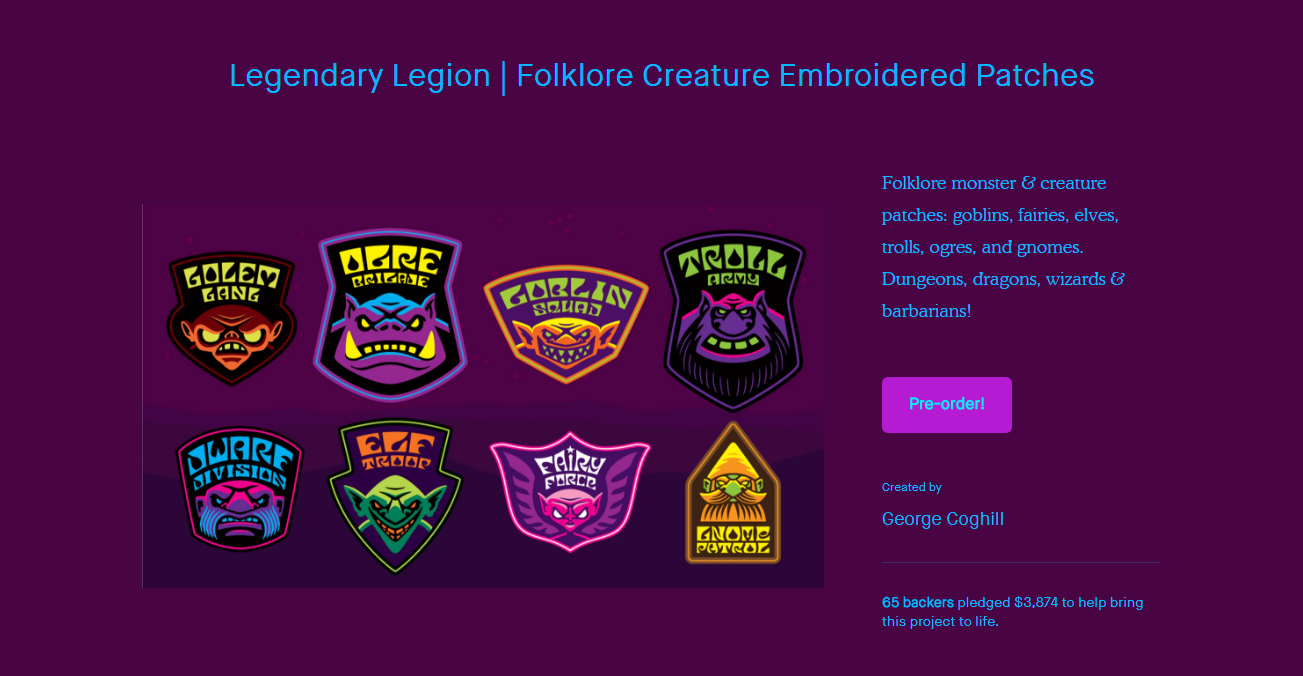 Stadri Emblems proudly supplies independent artists, such as George Coghill of Monsterologist, with high-quality patches that their customers love. Monsterologist has had several successful campaigns on kickstarter to fund hundreds of custom patches.
Crowdfunding can be beneficial in a few ways. The most obvious one is that you will have enough funds to complete a new project up-front. But, it also serves as a way to generate interest in your product, and for you to gauge how interested people are in your product before you invest a significant amount of money into it. We love to support independent creators, and we hope that this guide will help you start your project!
Getting started with crowdfunding

If you're not familiar with crowdfunding, here's the general idea: You pitch a new idea that you need funding for, and people who believe in your idea pledge money to make it happen. After the project is funded, you reward your backers with the finished product. With crowdfunding, the website that you use will take a cut of your funding in exchange for their service. Currently, the most popular sites for crowdfunding are Kickstarter and Indiegogo.
It's very important to calculate your costs correctly, but we will get to that later. At this point, you should have a clean digital rendering of your patch or pin. If you need help with finished artwork, we do offer free design services. Presentation is very important!
A good patch or pin design should be bold, unique, and interesting. Sometimes, having something that appeals to a unique niche is more successful than a generic design. Make sure that you design is appealing, and will translate well to a small, wearable product.
Take a look at our Guide to Creating Your First Patch and our Guide to Creating Your First Enamel Pin if you need some more information on creating your first patch or pin.
When setting up your campaign, you'll be expected to give an approximate time for the delivery of your patches or pins to your backers. For pins, our production time is 2-4 weeks from the time your approve your pre-production sample. For patches, it is 10-12 business days. After you receive your items, you also have to individually package them to mail, which can be time-consuming. Always make sure to give yourself a little extra time to be safe. Be honest and upfront with your backers.
Calculating your goal amount
One of the most important things to consider is your goal amount. You should research carefully the costs associated with a campaign. You don't want to end up with insufficient funds to complete your project.
The first thing to calculate is the cost of producing your patch or pin. We can give you a price quote through our website. Getting a quote is completely free. You can also check out our blog post - 9 Tips to get the most savings out of your patch order for a few ways to save money. Don't hesitate to contact us to talk about pricing, or if you have any questions about the ordering process.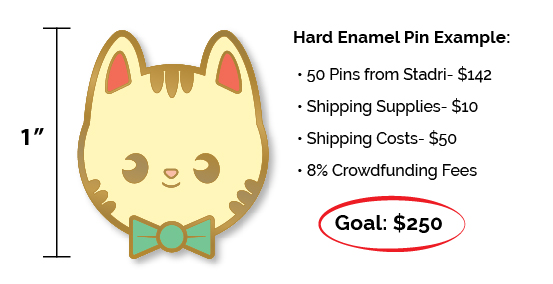 Let's use an example of a 1" hard enamel pin: If I wanted to get 50 pins that are 1" x 1" then your production cost would be $142 from Stadri. This is our starting point for calculating our total goal. If you are considering doing a crowdfunding campaign for pins or patches, send us an email to let us know! We'd love to help you out with pricing and getting the right product for you.
The next thing to consider is what packaging you will use to ship. This cost usually isn't significant, but you still want to factor it into your total. Patches and pins can easily be mailed in a small 4" x 8" padded envelope, or smaller. You are likely going to want to buy these in larger quantities to save money. You can find these for sale in bulk quantities online.
The next thing to consider in your goal amount are the fees from your crowdfunding service. In the U.S., Kickstarter will take 5% of your total amount, a 3% processing fee, and also 0.20 cents per pledge. For Indiegogo, they will also take 5% of your total amount, charge a 3% processing fee, and charge 0.30 cents per pledge.
You can take a look at their policies here and here.
Setting up rewards
Now that you have a goal amount, it's time to create some rewards! You should have a varied price range for your rewards to encourage people to back your project. Something small like a 'thank you' note is always a nice idea for a low cost reward. This is great for people who want to contribute something to your project but may not have enough money for a higher reward option. Having an option for multiple pins or patches is also a good idea. You want to give your potential backers more than just one option.
On average, people usually set their rewards to $8-$15 for one pin, or $5-$10 for one patch. It's common to have another reward tier that offers two or more pins. Some creators also offer stickers, original drawings, or prints as an additional incentive. Make sure that you calculate any extra things you might want to offer into your cost!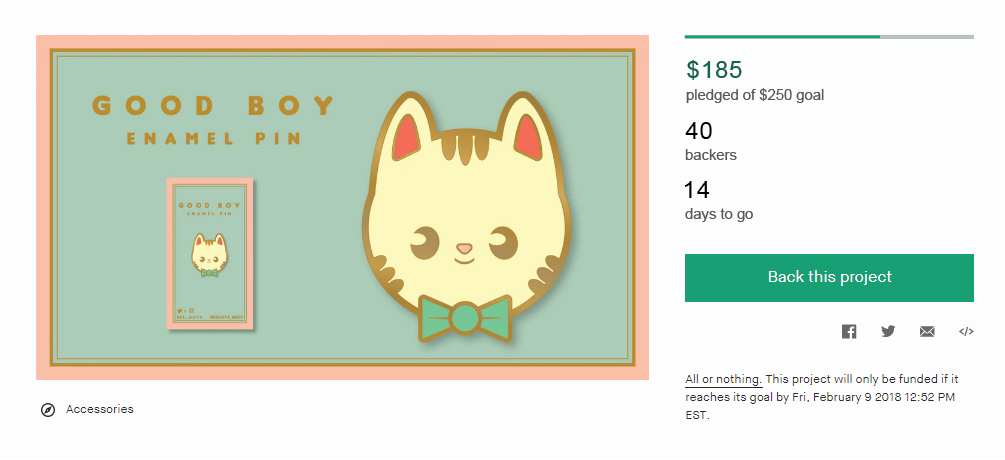 A common thing on Kickstarter is to have a "stretch goal". These are extra things to add to your project if you end up being over-funded. For example, if your goal is $400 you could have a stretch goal of $800 for an additional pin. Stretch goals entice your backers to pledge more to get to the larger goal. This is totally optional, but a fun way to encourage backers!
Do NOT forget about shipping costs!
Taking the actual shipping cost into consideration is key. When backing your project, there is an option to charge an additional amount for shipping. Most shipping services calculate cost by weight. The weight of an average pin or patch is only a few ounces. If you are shipping domestically in the United States and through the US Postal Service, you can expect shipping to be about $3-$3.50 for a single pin in a padded envelope with tracking. You'll want to pay for tracking to make sure your backers know exactly when their item is arriving.
Some people also chose to include shipping costs with the reward cost for domestic shipping. For example, instead of putting a reward tier for 1 pin at $10, you would roll the shipping into it and set it as $13.
Shipping internationally is also an option. You don't have to offer shipping outside of your country if you do not want to. If you do, make sure you are charging enough! This is a pitfall that unfortunately many people fall into. On Indiegogo and Kickstarter, you can charge different shipping prices per country. Calculating shipping for several different countries and entering the amount can be tedious, but it's better than being caught off guard with a huge shipping charge that negates your profits, or causes you to lose money. To calculate shipping, you could use the US Postal Service's online shipping calculator to get a general idea of the costs and what you should charge.
Promoting your campaign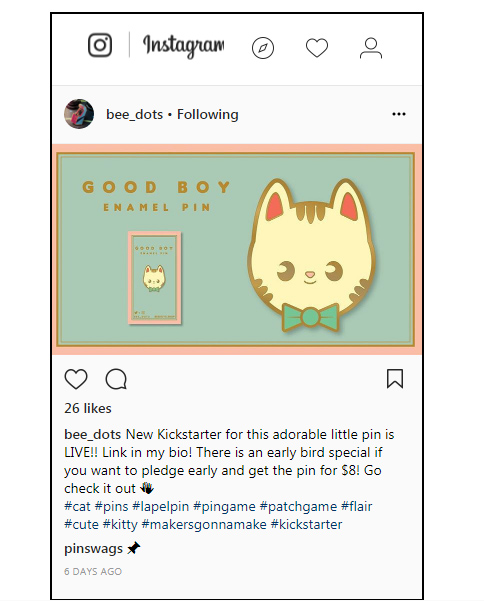 After your campaign is launched, it's time to do the most difficult part: self promotion. It's up to you to make sure your campaign is a success. Sharing on social media is essential to the success of a campaign. However, you want to avoid looking like a spam bot. Sharing the same image or text over and over again will quickly become annoying to your followers. A good way to vary your posts is to post something unique as much as possible. For example, sharing that you are halfway to your goal serves as an update but also promotes your campaign. Sharing a variety of images makes things more interesting to your followers as well. Ideally, your friends, family, and followers will help share your campaign. Don't be afraid to promote yourself!
Another good idea is to make a schedule for yourself. Plan out ahead of time when and where you will post on social media. Posting every single day to your facebook friends won't be as effective as nicely timed updates on a variety of platforms. Don't forget to take advantage of Instagram, which has become a popular app for collectors of pins and patches.
We are very proud to provide high quality pins and patches to artists and designers who want to create their own products. We want to make sure that your next crowdfunded project is a success!
If you are considering taking the plunge into crowdfunding, we have your back.
If you are interested in doing a crowdfunded patch or pin, please let us know! We'd love to help you run a successful campaign in any way we can!
Send us an email
to let us know about your project.
Please include the following in your email:
Name
Image of patch or pin (if you have one)
Dimensions of your pin or patch
Tell us about your project