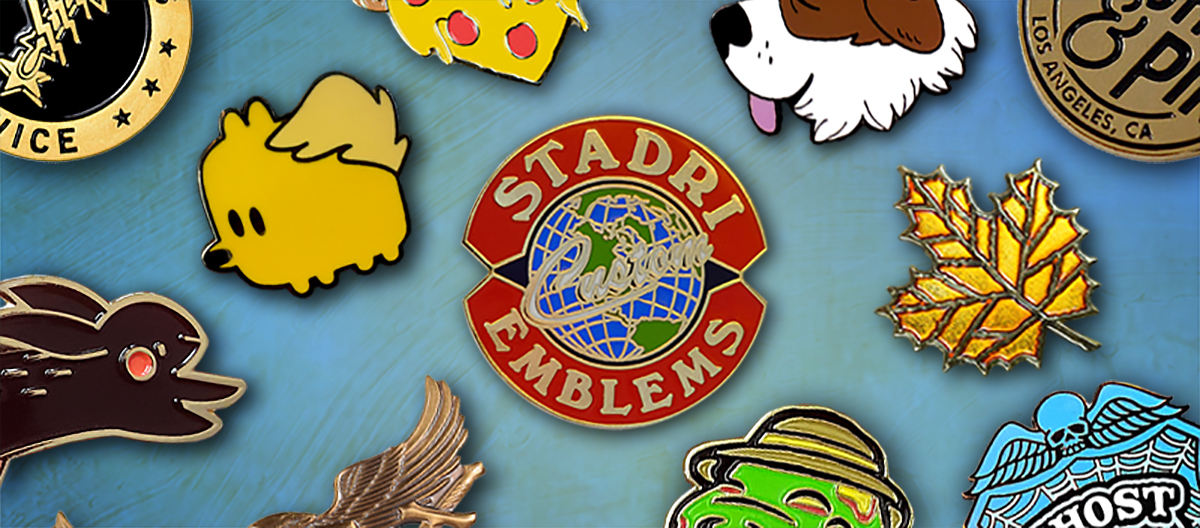 Recently, pins have gained massive popularity. Not only do they continue to be used in a business setting, but they have also expanded into the world of artists and designers. Now more than ever, artists are turning their designs into pins and patches. If you need pins for an organization, or you want to turn your original design into a pin, this guide will get you started!
The first thing you should do is determine the type of pin you'd like to make. There are several options, and some options might work better for your design than others. For color pins, soft and hard enamel are the most popular choice. Diestruck pins have a classic and dimensional look. Silk screened pins are also an option if you want to turn a photo into a pin.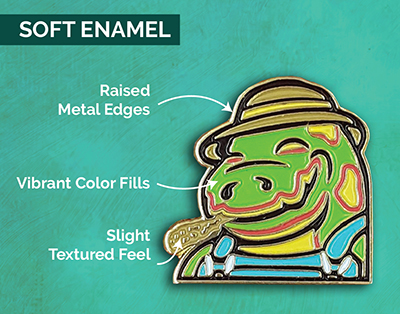 Soft Enamel Pins
Soft enamel pins are popular among artists and designers. The edges of the metal are slightly raised, giving the pins a slight texture. This gives soft enamel pins a charming and classic feel. Due to the look and affordability, these types of pins are the most popular.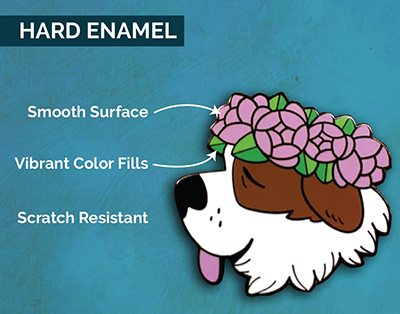 Hard Enamel Pins
Hard enamel pins are durable and scratch-resistant. Each pin is hand-polished and plated to give it a smooth finish. Hard enamel is a great choice if you want to ensure that your pins will stand the test of time. Hard enamel lapel pins have the greatest perceived value and a jewelry-like finish. It is said that hard enamel can be preserved for 100 years because it is derived from mineral ore.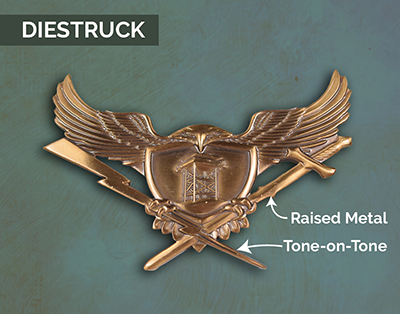 Die struck Pins
Die struck lapel pins give the appearance of the design being carved into the metal. Your image is stamped on a sheet of iron or copper. Plating of the pins is done next. The raised metal surfaces of the lapel pins are then polished to a luster finish while recessed areas are left with a sandblasted look. The end result is an elegant and impressive "tone on tone" creation.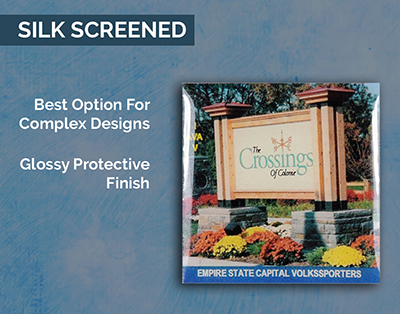 Silk screened
Silkscreen is the perfect alternative when the enamel fill process is not compatible with the pin design (i.e. when the design is far too detailed). Each color ink is squeezed through a silk mesh directly onto the metal background. An epoxy dome is then applied to insure a durable glossy finish. This process allows for blends and small details to be duplicated on the pin.
Now that you have a better understanding of your options, it's time to start thinking about your artwork. Stadri Emblems has a team of talented artists that can offer assistance with your pins, if you need any help with design or artwork setup. The most successful pin designs are simple, but have a strong focal point. Since small details don't translate well to small pins, make sure your design is able to stand out at the size you choose. When designing a pin, consider text size and placement as well as number of colors. We offer the first 4 colors on enamel pins for free. Additional colors are available, but with a small fee. Keep this in mind when designing your pin.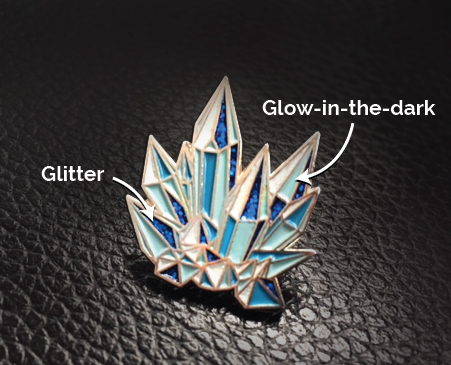 Be creative with your designs
We also have some extra options available for enamel pins. We can mix in glitter, apply rhinestones, or even use glow-in-the-dark enamel paints. Let us know what you are envisioning and we will help you create it. This crystal pin has both glitter as well as glow-in-the-dark paints.
If your design is very complex, there are a couple of options available. The first choice is to simplify your design into something that will work as a pin. Whether this is removing small and unimportant details, or reducing the amount of colors, it's important to create a design that will translate to a pin. If you need assistance with this, we offer free design services and will be happy to help. We will make sure that your design will turn into an amazing pin.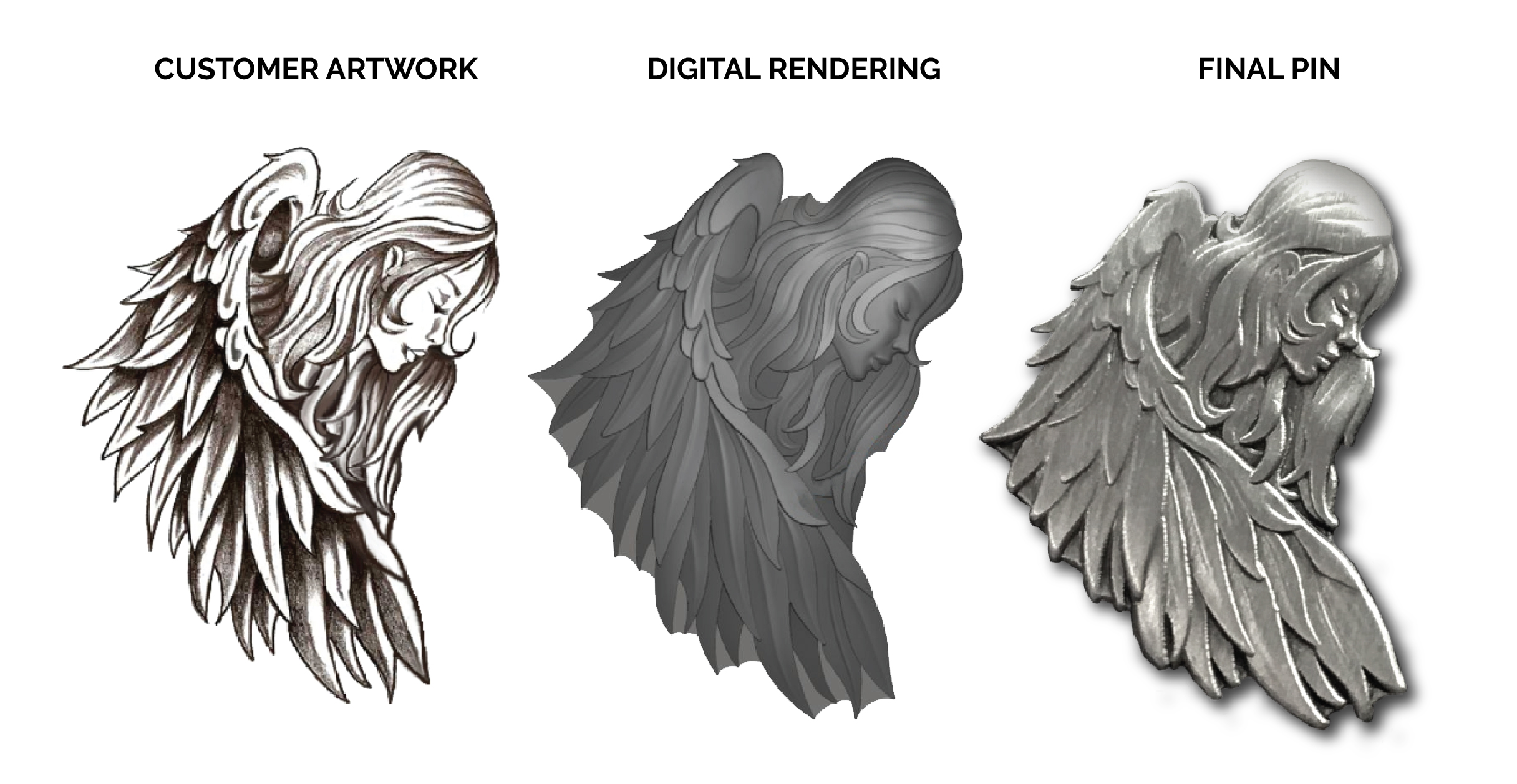 The most common size for pins is 1" x 1". We can certainly go larger or smaller, but keep the level of detail in your design in mind. A good tip is to print out and cut out your design at different sizes to get a feel for what will work. If your design has text, make sure that it is large enough to be legible.
For artwork, we prefer vector formats such as .ai, .cdr or .pdf. We can also accept file types such a .jpg or .png. We also accept sketches if you need help creating artwork. Make sure that you consider which parts of your design will be metal, and which will be filled in with color. Your lines should be crisp and clean, and not too thin. For colors, feel free to provide PMS colors if you have them for your design.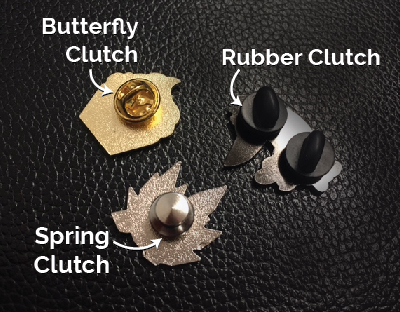 Another consideration for your pin order is the backing. We offer many types of backings, as well as options such a key chains and magnets. Most pin orders come with the standard butterfly clutch, but another popular option is the black rubber clutch. Consider a spring clutch backing for an extra secure hold.
We hope that this guide made you more confident in taking first steps to making your pin order. If you're still hesitant, remember that we also have a low-price guarantee. If you find a quote lower than ours in the United States, let us know so we can beat it! Also keep in mind that we will assign you a dedicated account manager to guide you through the pin-making process. If you have any questions at all, they will be able to assist you. To get started, just get a free quote from us!