You don't need to be a professional artist or designer to get your own amazing-looking custom patches. We've created thousands of custom designs for our customers from as little as a napkin drawing. If you don't have much artistic ability or an eye for design, that is not a problem at all. Our team of artists is waiting to work with you and create exactly what you are looking for.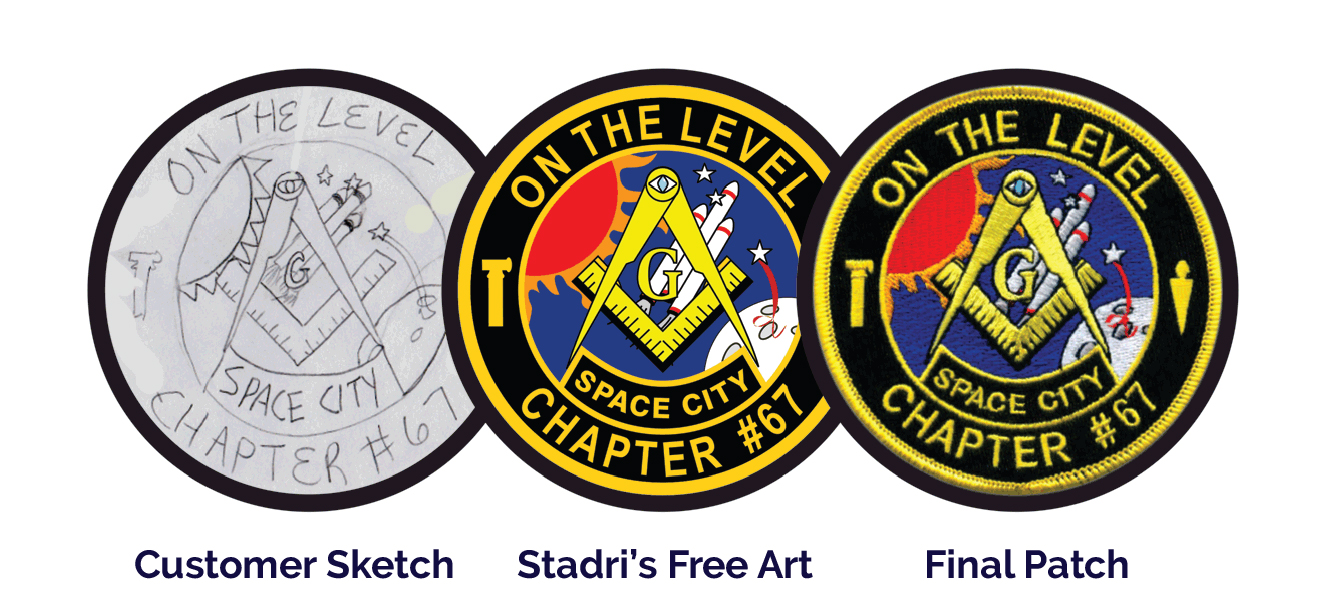 Communication with your artist is key to making the perfect design. The clearer you can communicate to the artist, the faster you can arrive at your final design. Sometimes it takes a couple of revisions to get it perfect, but we've found that the more information we can gather at the beginning of the process, the better! Your artist or sales representative might ask you some additional questions to ensure everyone is on the same page.
Here are some tips for communicating with your artist:
Be descriptive
If there are any details that are important to you, make sure you mention them! The more information you can provide, the better. This is important to patch design, especially in smaller patches. Some small details are not possible in embroidery. Your artist will be able to advise you on what options you have when it comes to detail on very small patches.
Instead of this:
"I'd like a hiker going up a mountain"
Say this:
"I'd like a male hiker going up a mountain. He should be middle-aged and strong-looking. He should be dressed as a lumberjack with a beard. I'd like realistic-looking mountains that resemble the Rocky's. Colors shouldn't be too bright—please keep it realistic with browns and greens."
Be specific
Some things can be drawn several different ways. If you want a plane on your patch, let us know which kind. If you want a person on your patch, tell us what they look like! If you would really like a particular color, show us an example or give us a color code to match. In this case, it's better to over-explain than to under-explain.
Instead of this:
"I want a dog jumping over a fence"
Say this:
"I'd like a side view of a German shepherd dog with brown and black fur jumping over a white picket fence. The dog should look realistic."
Make a sketch, even if you can't draw
If you have a specific layout in mind, sketch it out! You don't need to be amazing at drawing, but showing a diagram of what you have in mind can be extremely helpful. We promise not to judge your drawing ability. A simple diagram of what you have in mind can be extremely helpful to the artist.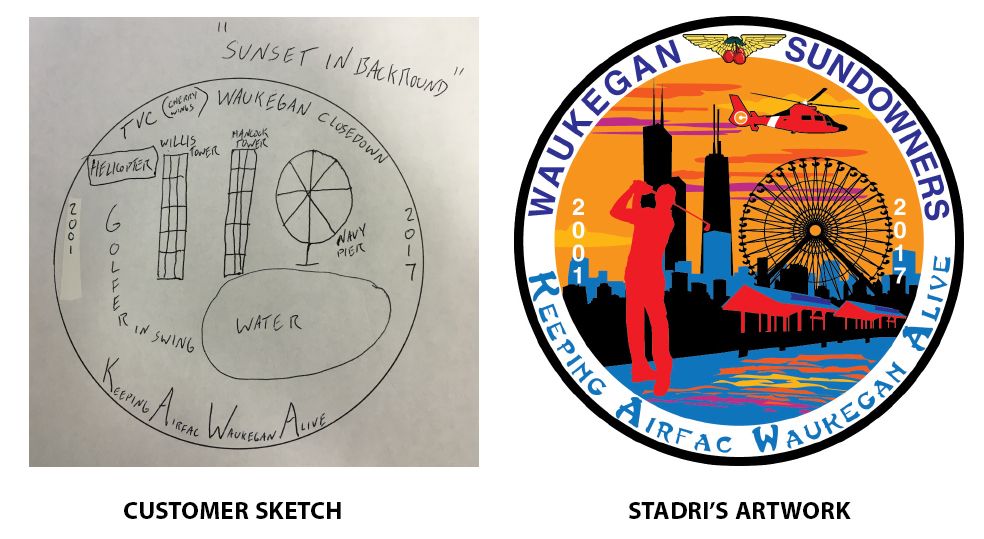 Send us photos for reference
It's sometimes easier to show rather than tell! Feel free to include any photos for our reference or for us to use as inspiration. Here is an example of some images you could send to the artist for clarification of certain elements that you want included:

Let us know more about your patch and why you're making it.
Sometimes, letting us know the context of your patch can really help! If you're making a patch for an event, community, or group, let us know! Linking your artist to your website or Facebook group page can help them understand what your group is about and help them make something you'll enjoy.
Do you have a logo?
If you have a logo that you want to incorporate into your design, it's important to send us the highest quality version available. Preferably, you'd have a file that is .ai, .cdr or .pdf. We can also accept .jpg, .gif, .png and any other image format. Try to send over the highest resolution image that you have available.
Stadri provides free artwork setup with every order, so don't hesitate to get a quote and start your order. You can also take a look at our Guide to Creating Your First Embroidered Patch if you'd like more information about the options you have for patches.