The first time ordering pins can be overwhelming for a lot of people. Even experienced pin designers often find that there's always more to learn about the pin-making process, as pins come in a variety of sizes and shapes, metal finishes, and special options. No matter where you are on your pin-making journey, everyone wants the right balance of quality and price. Fortunately, there are several different strategies you can use to ensure you stay within your budget.
---
Try to keep your pin's size as small as possible.
Generally, the larger the pin, the more it will cost. Most pin designs can be produced at a 1" size, but some need to be a little larger because of the intricacies of the design. Unless you are aiming to create a large statement piece, you most likely can keep your pin's size under 2".
Some aspects of a pin's design tend to be problematic. In these cases, we will often advise you to make the pin larger. These areas often include:
Cut-out areas that are too small (Cut-outs should be at least 2 mm at the smallest point)
Lines that are too thin (the minimum line width for metal is 0.2 mm)
Text that is too small (text needs to be at least 2 mm high)
Areas of enamel that are too small to be filled in with color (the smallest area that can be filled with enamel is 0.3 mm.)
A common technique for figuring out pin size is to print your design out at full size and see how it looks. If you are unsure if a section of your pin is large enough, don't worry; we will always review your artwork to advise you of whether any changes need to be made. Your artist at Stadri will help you strike the perfect balance of size and detail.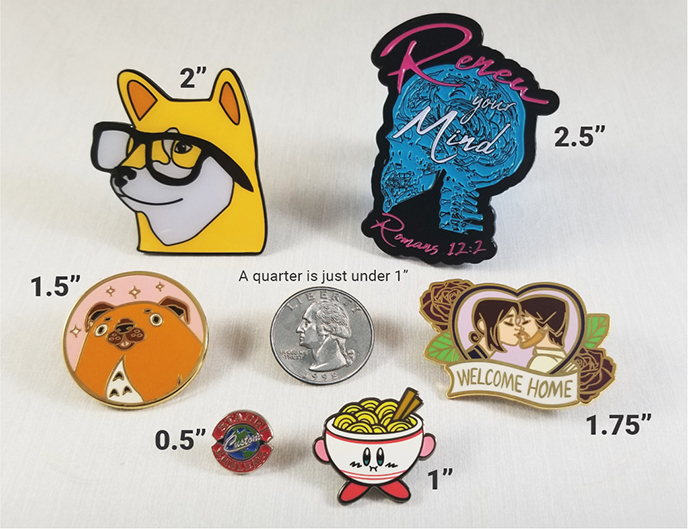 ---
While you can order as few as 25 pins, ordering more will lower your cost per piece.
25 pieces is really great for a small run of pins, but if you think you will ever need more of them in the future, save money by ordering more at once. We have price breaks at 50, 100, 250, 500 & 1000 pieces.
For example, for 1.5" pins, our for 25 pieces is $5.36 each. But, for 100 pieces of the same pin, the price per piece is more than cut in half to $2.34 each. You can see a full price list here.
---
Use one of our discount codes for 1" pins.
If your pin can be made at 1", we have three great offers at different quantities. Our most popular option for 1" pins is 100 pins for $189. That's less than $2 per pin, and is amazing profit considering that most people sell their pins for $8-$12 each!
Remember to use the discount codes provided to receive the discount. You can enter it when you get a free quote on our website.

---
Keep the number of enamel colors to 6 or fewer.
We include up to 6 different enamel colors with every pin order. If you find yourself with 20 colors in your design and additional charges, you might want to remove a few to save yourself some money. The most common thing to do is to combine similar colors to reduce the total. However, sometimes all of the different colors really make the design special. In that case, keeping the high color count might be worth it to you. Keep in mind that each additional color over 6 is just 0.15 cents more per piece. It many cases, this only adds up to a few extra dollars on your order's total. We will be happy to give you different pricing options for different color amounts if you'd like to compare your options.

---
Use rubber clutches - they are included for free.
Rubber clutches are one of our most popular options for pin backings for a reason. Not only do they come in several different colors, but they are also very stable and included for free. There is no extra charge for upgrading from our standard butterfly clutches to rubber clutches of any color. This is an easy way to add a special touch to your pins for no extra cost.
---
Keep up-to-date with our deals and discounts.
You can sign up for our newsletter here so you'll never miss any future sales.
---
Many pin options and features commonly increase the price, but are included for free if you order with us!
We are often asked if certain popular pin options cost more than others. We don't charge extra for hard enamel pins. You can learn the differences between hard and soft enamel here. All of our standard metal plating options, including gold, silver, and black nickel, cost the same amount. The less common options of rainbow metal and "antique metal" are the only plating options that will increase the cost of your pins.
We also do not charge to add a second post on to pins that are on the larger size. We typically advise customers to add a second pin post on designs that are 1.5" or larger. If you were thinking of including any of these options in your order, you can add them on without worrying about a price increase.
Some features are worth the extra cost.
Many specialty pin options are surprisingly affordable. If you are still within your budget after employing our tips, consider adding on some other features that can enhance your final design. Glitter and glow enamel colors are only 0.25 cents more per color, per piece, and can give your designs that little something extra. You can also add a back stamp to your pins for just $35. This is an extra stamp on the backs of your pins, usually used for contact information. This extra cost can be worth it to some pin makers, since putting your website or Instagram handle on the back can help grow your brand.
Final Thoughts
Every pin design is unique. You may want to keep your design as small as possible to save money, but some designs require a larger size. Design consultation and artwork changes are included with every order, so if we encounter an issue with your pin design, we will advise you on what your options are. Sometimes, it's as simple as increasing the size of your pin to accommodate the details, and other times, we might need to remove some details to keep your design small. Each pin design needs individual attention and evaluation to determine what will have the best outcome.