The MuttKnee Brace got started by Daryllanne Franks about twelve years ago, out of necessity to help her dog Muttley, who had injured her knee running around on the snow and ice. As a result of this injury, Muttley could barely walk, and the cost of the surgery suggested by the vet was beyond Daryllanne's budget.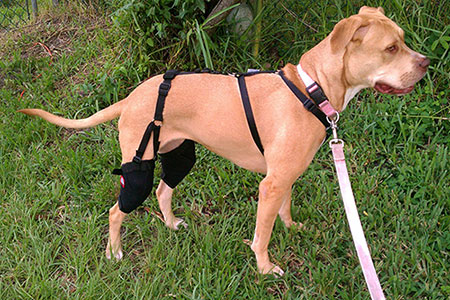 Knowing she had to help her poor dog any way she could, she and her husband decided to design their own brace for Muttley, basing the design on supportive braces for human knees.
After a couple of months of wearing the brace, Muttley was able to support her weight once again on the injured leg, and before long, she began running as if she had never been injured. This inspired Daryllanne and her husband to produce these braces for other injured dogs in circumstances where surgery is not a feasible option due to excessive costs or the age and health of the dog.
The design underwent many modifications and tweaks since the original. The current model is sold at muttkneebrace.com, and is custom fitted and designed, and individually sewn for each specific dog. Its primary function is to stabilize the dog's injured knee and help to reduce the pain associated with the unstable knee joint. In short, it allows a dog to walk on all four legs again.
Since its inception, MuttKnee Brace has helped almost 5,000 dogs of all sizes—from 3.5 to 230 pounds—in 40 countries and has grown from one seamstress to now having five local women sewing daily.
The MuttKnee Woven Patches
Daryllanne says, "MuttKnee Braces have the awesome patch from Stadri attached. We needed a patch to sew on each of our MuttKnee Braces and love the quality and the pricing for the patches. I hope to be purchasing t-shirts and hats next year with our logo."
She also says, "Our goal is to help dogs—one knee at a time—by making an affordable, supportive, and comfortable dog knee brace."
MuttKnee Brace gives back too. For each brace purchased, the company donates five dollars to local and national animal rescue organizations.
Keep MuttKnee in mind in case of the unfortunate event your dog sustains a knee injury. Even if you can afford surgery, MuttKnee could certainly be a better alternative, depending on your dog's specific injury.