"Movement Equals Improvement!"
That's Quadriciser's motto. What is Quadriciser?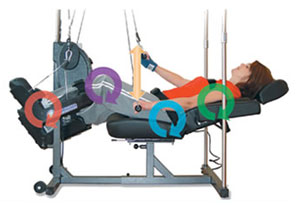 According to their website, Quadriciser is a passive, isometric, motorized therapy machine that offers hope to many individuals unable to use conventional equipment. The walking motion of the Quadriciser moves an individual's lower and upper limbs through varying ranges of motion without any assistance from the individual. According to many physicians and physical therapists this movement has a significant impact on an individual's overall health by increasing circulation, heart rate, range of motion, strength, muscle tone, balance, bowel and bladder function as well as improving the psychological well being of those who use the Quadriciser.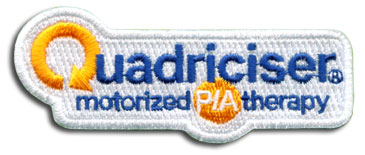 Patches have greatly improved Quadriciser's exposure and reach. They use their patches for branding and as an opening to talk with customers. "All of our company shirts have our logo, and people are constantly asking who we are and what we do, because they see our patches on our shirts," says Charmin Foth, Marketing Manager for Quadriciser. "We also had hats done and [gave] them away as a promotion."
These diecut, 100% embroidered patches will look great on company shirts, especially with the background and border colors being the same.
What does Quadriciser have to say about Stadri Emblems?
"Stadri Emblems was such a pleasure to work with. You offered supreme customer service, everything from helping us pick the right thread colors, quoting us on multiple amounts, and making sure the proof was correct. Plus you had the best price in the country! What more could you ask for?! Excellent!"
Many thanks to Charmin Foth for the high praise!
To learn more about Quadriciser, visit their website and blog.
You can even check out the Quadriciser in action!