I'm reminded daily how lucky we are here at Stadri Emblems. The amount of creativity, love, dedication and amazing projects our customers trust us with is both humbling and inspiring. As we've seen on this blog alone, there are many unique individuals giving back in diverse ways, enhancing our local and global tribe.
What's your point? I'm about to click my way outta here...
Locally the Onteora Senior Class has teamed up with the Killian Mansfield Foundation to assemble 1,200 aromatherapy kits to help newly diagnosed children and teens with cancer.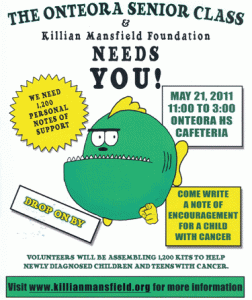 Ok, I stayed. Who's Killian Mansfield?
Killian was diagnosed with cancer at the age of eleven. He lost his battle five years later but during it Killian recorded music, made art, and incorporated the foundation that bares his name. My writing can't do an adequate job of describing Killan's legacy. Follow the link at the bottom of this post to learn more about this incredible individual.
What's in the kit?
Each of the 1,200 kits will contain a number of products aimed to ease a child's suffering. Some items are serious, while some are a touch more fun, like the Grumpy Fish Killian designed at the age of eleven:
Stadri has made Grumpy Fish into an embroidered patch to be included in each kit.  Word around the water cooler says that custom Grumpy Fish bags are also in the works. All 1,200 kits will also contain a personal handwritten note of encouragement.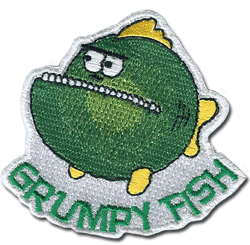 Aw, shucks, handwritten! I can't help–I live too far away.
Please leave your note in the comments section of this blog, post it on our Facebook wall, Tweet it to us (or carrier pigeon if you're old school) by Friday May 20th and I'll make sure your note of encouragement gets written to be included in one of these kits. As a guy obsessed with data, I hope I'm able to find out how much writing it takes to get a hand cramp!
Drop a note and let's make some smiles!
Learn more about the Killian Mansfield Foundation