SHAPE stands for Supreme Headquarters of Allied Powers in Europe. The SHAPE Bowling Association was created in the early 70's at SHAPE Belgium, and has taken care of all the bowling leagues in an international environment since 1970. It is part of NATO, NATO being the "political" side of the house, located in Brussels Belgium and SHAPE being the "military" side of the house, located near Mons in Belgium. It is an international base; currently 28 nations are represented, including the USA.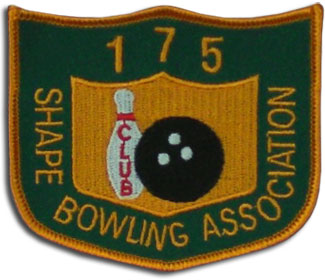 In the early 90's, the Secretary of the Men's bowling Association departed without a replacement. Patsy Herbaut, then the Women's Association Secretary, started handling both and soon after, the Men's and Women's associations decided to merge and call themselves the SHAPE Bowling Association.
Their bowling center is called SHAPE Pizza Bowl and they have 12 lanes. They currently have six sanctioned leagues through the United States Bowling Congress: Monday Night, Tuesday Ladies, Tuesday Night, Wednesday Night, Friday Night, and the Youth League on Saturday mornings. They also have two fun leagues, not sanctioned.
SHAPE Bowling Patches
Since it is an international environment, they have a lot of bowlers who arrive who have never touched a bowling ball before. Moreover, because it is a military environment, turnover is very high, so they keep getting "new blood" every year. They thus decided to motivate, attract, and recognize their bowlers' accomplishments by issuing various bowling patches for games and series. That's how the embroidered patches Stadri provides them on a regular basis were created.
The colors, green and gold, represent the colors of SHAPE. The writing on the embroidered patches, "SHAPE Bowling Association," is for participants to remember they were part of SHAPE at one point of their career and did well. In addition, SHAPE wanted to make sure its name was mentioned as a great souvenir for those who were stationed there.
"We use these patches for all leagues on SHAPE, whether sanctioned or not by [the United States Bowling Congress]. We established our own rules (average based); we issue them by season. Each league secretary presents these awards to her/his league bowlers," reveals Patsy Herbaut, mentioned earlier. She goes on to say, "I am hoping to raise some money over the next two years so I can purchase similar patches for my youth bowlers."
About Patsy Herbaut: She has been taking care of leagues since 1982 (starting with the Wednesday night league which she still currently handles) and has been on the Association since 1984, in various positions. Currently, and for the last 12 years she has been the secretary of Tuesday night, Wednesday night, Friday night, and the Youth league. She is also the United States Bowling Congress Benelux Chapter (association) manager, and has been for about 15 years.