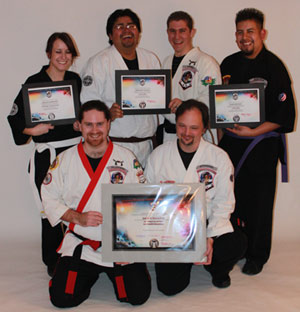 United Martial Arts Self Defense Academy, located in South Salinas, CA, is a school for learning methods of Self Defense. According to their website, it has a "mission of providing uncompromisingly high quality training with the exclusive focus on Self Defense applications."
What Their Name Represents:
United Martial Arts: Their coursework originating from several mother systems of training
Self Defense: Their training focus
Academy: A place of learning
Founded in July of 2005, they have a varied curriculum, with their coursework being modeled around the collegiate scholastic model. Under this model, prior to a student's being able to advance, he or she must demonstrate—on multiple levels—comprehension of what has been learned.
UMASDA puts a different spin on self-defense. While many participate in martial arts programs with the intent of training for tournaments and engaging in cage fights, UMASDA's aim is "to improve knowledge acquisition and retention," and impart skills that translate into real life situations, such as street altercations.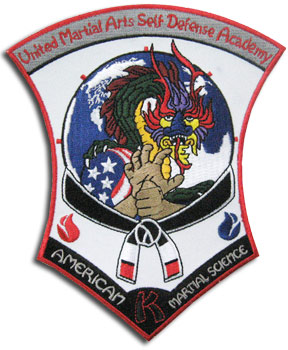 UMASDA wanted to have its own identifying custom patch for its school members. The final design agreed upon is very eye-catching and vibrant. It is a patch that is worn by all of the students, and has even been made into a US Registered Trademark.
Two versions of this custom patch were ordered: a silver and a red border.  The silver is the general use patch; the red border version (shown here) is for the 1st generation students.
This patch is a good example of Stadri's ability to provide custom patches in unique shapes and with a variety of colors. Unlike the competition, Stadri gives you ten different thread colors for free, thereby allowing for greater creativity in patch design.
With Stadri's high quality, computerized looms, Martial Arts styled fonts stitch clearly and legibly—even in lowercase. As long as fonts are a minimum of the equivalent of 14pts in a standard word processing program, text will stitch legibly (lowercase should be a minimum of 17pts).
A quick aside about how memorable this patch is: I used to work in Stadri's Art Department back in 2006 when this patch was first ordered. Coincidentally, I was the artist who set this patch up for production. When Steve Zalazowski, Executive Director of UMASDA submitted his information and patch image to Stadri a couple months ago for an opportunity to be featured here, I immediately recognized and remembered the patch—a true testament to the success of this custom patch design, considering the amount of patch artwork I came into contact with on a daily basis.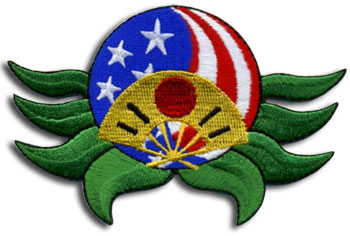 How happy is UMASDA with Stadri Emblems? Well, they ordered more patches! In addition to re-ordering several times the patch already shown, they also ordered a Lotus Yang patch—its significance being the lineage patch of UMASDA's Executive Director, Steve Zalazowski. Worn on the sleeves of the uniforms, this 100% embroidered, diecut patch has a green lotus leaf with a US flag yin/yang and a gold fan superimposed on top.
Is that the end of the patches? Nope! Check out the image below, submitted by Steve Zalazowski, which shows even more patches being worn by members of the UMASDA!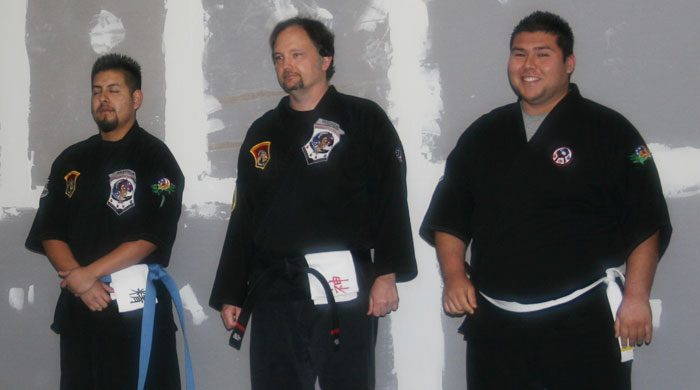 For more information about United Martial Arts Self Defense Academy, visit their website
Do you have a Martial Arts patch you'd like to show off? Leave a comment with a link to it!