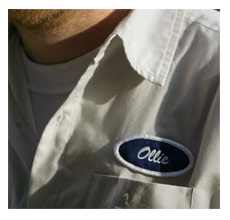 As a factory worker, my dad wore a uniform. The uniform wasn't anything spectacular; it was just the standard blue that one would associate with factory work. Above the pocket was an embroidered patch with his nickname–Jack. On a company fishing trip I heard his coworkers refer to him as "Big Jack". Apparently, his employer changed uniform suppliers and that supplier made a mistake, increasing the size of the text on the embroidered name patch. Some people took notice of the increase, and Big Jack was born.
While most associate name patches with work shirts and uniforms, they have many other uses. Motorcycle groups use them to designate rank, and for short clever sayings. Have a lab coat? I'm sure you have at least two name patches affixed to it. Sporting clubs use them to differentiate sporting equipment and gear bags, and for a customization on warm up clothing.
Like any product, customization is king. With Stadri's in-house art department, we can design any personalization needed. We have the standard name patch shapes of square, circle, rectangle, and oval if you don't have a custom shape in mind. Name patches can have any backing–plastic, heat seal (iron-on), or no backing. Thread colors and font types? As they say in New York City, Forgetaboutit! We have them all, and then some.
Stadri has always had a commitment to the lowest minimums, so you won't have to waste time looking for companies that make name patches. Wholesale pricing gets you the deal you're looking for no matter the quantity requested. With a picture, we're also able to re-create name patches matching the size, shape, color, and font, saving employees from having silly nicknames.