Producing one happy customer after another is one of the many facets of Stadri Emblems that makes us proud. On a daily basis, we receive emails from customers with brief messages such as, "I received my patches today. They were top-quality. Thank you very much." Every once in a while, a customer is so over-the-moon, he or she opts to send us a 200 word email, telling us what a great job we've done. These are the types of testimonials and customer reviews we get a kick out of sharing with you.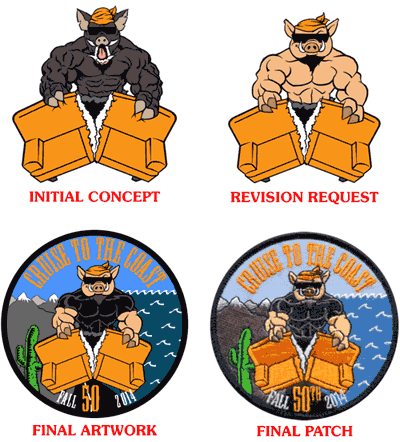 When Chris Wysocki of Mobile Management Solutions came to Stadri, he had no artwork to start with, not even a sketch. But that was OK; he simply gave our art department a written description, requesting a muscular hog with chin hair, wearing sunglasses and a bandana, ripping an orange couch in half. You can see what our artist Kevin came up with in the section of the left image marked initial concept.
Chris was envisioning something a little less ferocious, so the first revision was born. Chris liked this version, so after Kevin put a shirt on the pig and added a background landscape, the patch was completed, approved, and ready to get sent to production.
You can see the final stitched patch in the image above as well as by itself below.
What did Chris think when he received his patches? Below is the email he sent to us, word for word.
Good Morning,
I am writing you in reference to order number [Retracted].
I received the order yesterday and the end product exceeded my expectations!
The patches were bright and professional looking.
Your process was wonderful.
From the first call through each of the revisions, including a change even after I had approved the design!
Your group was helpful and allowed me to achieve the results I dreamt of having.
Your artist, Kevin, is a gifted person. He took a rough sketch that represented my thoughts and turned it into a reality. He was able to capture the look I was trying to achieve and more.
He was easy to work with and had great patience with me.
He was available and answered my questions, confirming I had made a good decision going with Stadri.
I have already recommended your group to a friend that is doing work with you.
I will continue to recommend Stadri to friends and the organizations that I am a part of.
Please accept my "Thanks" and be sure to pass them on to the folks that were involved.
I realize the value of a kind word and your group deserved all of these.
Please feel free to us me as a reference, if ever needed.
Chris Wysocki
www.mobilemanagementsolutions.com