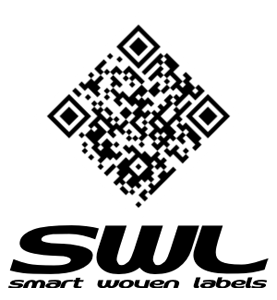 When the idea hit me it seemed so simple that surely I couldn't be the first to have it. I was watching my wife scurry around a big-box clothing store scanning QR Codes trying to unlock the largest discount or win a prize. Whoever designed the campaign was a genius; we spent more time in the store and looked at all the products trying to find every single QR Code. Watching her excitement I thought, "Too bad they don't put these on clothing. Then you could have people scan them every time they used the item the QR code was on. It'd make clothing more social and interactive."
Luckily, I work for a company that designs promotional products. After a bit of research I found all kinds of unique QR Code applications but not one using woven labels. Sure, there were t-shirts with QR codes but we were looking to make it a smaller part of the garment's design while elevating the functionality; we were not looking to swallow the whole thing. I read reports about how QR Code use is exploding (link opens PDF) and I started noting an up-tick in codes in the magazines I like to read. Finally, after three months of toiling, weaving, designing, and experimenting Smart Woven Labels were born. Acting as a creative bridge between fabric and electronic media, Smart Woven Labels are the cheapest and fastest way to link physical objects to the digital world. Codes can be embedded with near infinite amounts of data and customizations can be made to the destination in real time. Woven labels are the essential finishing touch to any garment, accessory, or crafty project, but design and text can sometimes be limited by the size of the label. Because the information held on the code is digital, Smart Woven Labels aren't held to these constraints.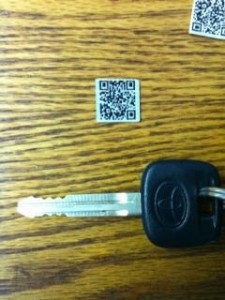 The very first Smart Woven Label with truck key.
Because woven labels are traditionally small, yet a high level of detail is required to enable QR codes to scan properly, it took some experimentation to get the process just right. With the kinks worked out we can offer QR Codes on any of our products: embroidered patches, printed patches, and bumper stickers to name a few.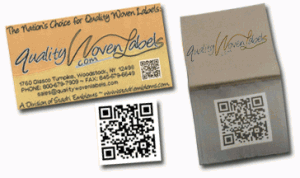 We're still in the soft launch phase for Smart Woven Labels but keep an eye on our website as we make updates and roll out new features. If you'd like more information or would like to share an idea, email us (sales [at] qualitywovenlabels [dot] com) or give us a call at 1.800.679.7909
It's always exciting to see what customers do with our products. I imagine the level of creativity will get taken up a few notches with Smart Woven Labels.
Quality Woven Labels is a division of Stadri Emblems.