The most enjoyable aspect of being the marketing guy at Stadri Emblems is all the different parts of the company I'm involved with. Communication with our customers through social media is a responsibility I have. Invites to meetings occur regularly. And during the peak of spring cleaning season, I enjoyed collections of folders with cool names such as advertising, proofs, originals, and reports that my colleagues have purged from their drawers thinking I might cherish their contents.
From these folders I've found some of our first advertisements dating back thirty some odd years ago. These faded manila time capsules come from a time when perms were the rage, Alf was a hit, and personal computers were in their infancy–yes, the wild and wonderful 80's.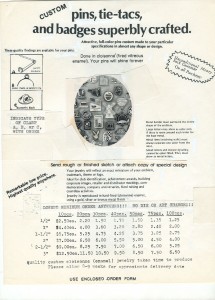 Looking vaguely like a ransom note, this ad is for Custom Pins—something Stadri still offers today. While I appreciate the liberal use of whiteout and tape I'm grateful we've evolved with our current advertising. It's a bummer that we no longer offer custom pins in a 10-piece minimum, but low minimums have been a pillar throughout our history and we're still one of the lowest around. One improvement we have added is the different types of backings and finishes. We're now able to offer cloisonne, soft enamel, diestruck, photo etched, and silk screened, all with their own finishes and metals. There are so many different options it's difficult to narrow it down!
We'll be posting more of these classic Stadri Emblems advertisements in the coming weeks.