It's no longer breaking news that space shuttle Endeavour returned this morning this morning from a successful 15 day trip, delivering the final U.S. components for the International Space Station and taking its last flight. All in all, Endeavour has 299 days, 4,671 orbits and 122,853,151 miles logged in space. I wonder how often they change the oil and rotate the tires.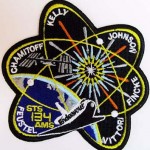 While Endeavour returned largely without payload, it did have a special stash of souvenirs including some very special Scouting patches. The crew members from all 134 shuttle missions (to date) have brought small U.S. Flags, crew patches, medallions, and lapel pins with them, so the tradition isn't new.
Included on the official flight manifest - yes, I read the manifest - are 500 of the crew's embroidered patches, designed by commander Mark Kelly's mother-in-law, Gloria, along with more than 5,000 embroidered U.S. Flags and 2,000 of Endeavour's orbiter flags.
More than 100 of the new robotic merit badges developed in cooperation with NASA also made the exclusive trip. Check out Boys Life for a chance to win a Robotics merit badge that orbited Earth on the space shuttle Endeavour!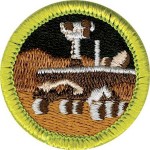 Lastly, mission specialist Greg Chamitoff was an Eagle Scout from Santa Clara County Council in California. Listed on the manifest is a special space patch designed for the occasion by the council with whom Chamitoff flew into space. I've been unable to find the patch in our system - there must be other companies producing embroidered patches, I'm truly shocked! I've reached out to the council in an attempt to confirm this and hopefully get an image of the patch. If I'm successful, I'll post the image on this post, twitter and facebook, so check back or follow as I'm sure it's a cool design.
What would you take into space if given the opportunity?