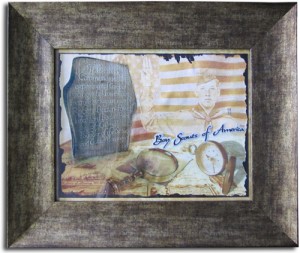 Need a unique holiday gift for the Scout in your life, or want a special way to commemorate a Scouting achievement, like a Scout achieving Eagle status? Framing a large Scout patch can be an artistic and memorable way to show support for Scouting.
This 13" x 10" (unframed size) printed patch with embroidered elements was created by Stadri Emblems to commemorate Scouting's 100th Anniversary. Posing in front of a billowing American flag is one of Norman Rockwell's iconic Scout images with the embroidered initials of the artist over the left shoulder. It is an example of the fine detail and artistic value that can be achieved using this process on an oversized patch. The full plastic backing and high quality fabric guarantees that this patch will not fade or fray over time. Only a handful of these particular patches were completed. One was presented at a BSA licensee's dinner. One was given to Thornton Percival, the man who modeled for Norman Rockwell's image of Scout's Honor. And one hangs in the Stadri Emblems art department wing. There are a small number still available, but once they are purchased, this design will be retired. Contact Stadri Emblems if you are interested in this design.
There are many possibilities for these works of art in thread. If anyone has a good idea for a design that would lend itself to a limited-edition collector's piece,  Stadri Emblems can make it for you.