The Americade motorcycle rally is an all-inclusive convention of bikers who enjoy multiple styles of bikes and riding, from riding-tourers and sport-tourers to cruising motorcycles. You'll find more demos at Americade than any other biker event in the U.S., including Daytona, Laconia, and even the world-famous Sturgis!
This expansive expo includes hundreds of the best vendors and famous brands in motorcycling, and Stadri has been privileged to be among them twice in the past eight years, the most recent being June of 2017.
We'd thought we'd share a unique perspective by letting Jack, one of the members or our Art Department, recount his experience.

Getting Out the Art Department to Meet Some Bikers
June 6-10 2017 was the 35th annual Americade Biker Rally, and I was one of the few people from our Art Department to go. I must say, I had way more fun than I ever anticipated.
Our booth was teeming with patches, pins, keychains, decals, t-shirts, and other merchandise we made specifically for Americade, including exclusively-licensed Americade pins, which turned out to be our most popular item. And not to be forgotten of course, was our extensive display of custom patches we produced for our current and previous customers.
Another highlight was the debut of our new line of products, Battle-Hardened Biker™.
Must to our dismay, June 6th was super-cold and full of heavy rain, but thankfully that didn't stop them from coming. And as the sun cleared throughout the week, more and more bikers started to roll in.
Things started rolling from Thursday to Saturday when our seamstress Mel arrived. She was chatting it up and sewing on people's patches, and it looked like everyone was having a good time at our booth. We got to talk to a lot of new clubs that were looking to get patches made, older clubs who were having issues with their current suppliers, and some who were seeking help redesigning their current biker patches.
As a member of the Art Department, I rarely hear from the customers again once they approve the artwork. It was very rewarding meeting the customers and hearing what their most common concerns and questions were. And as always, it was great to hear all the complements regarding our work, something we never tire of hearing! I even got some ideas for a couple of new patch to design.
At the end of it, I actually bought a leather jacket. Hey, maybe by next year I'll get my own motorcycle for the next Americade!
Most of the merchandise we sold at Americade is now available on our website. Check it a few of the items!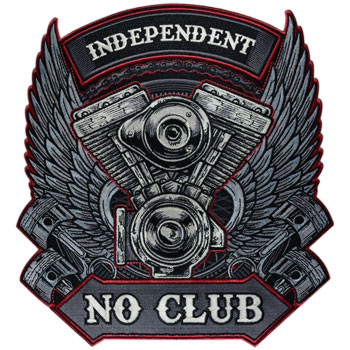 Independent Back Patch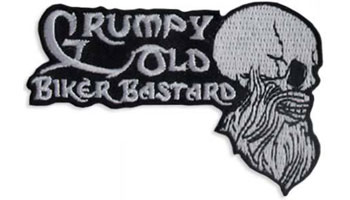 Grumpy Old Biker Bastard Patch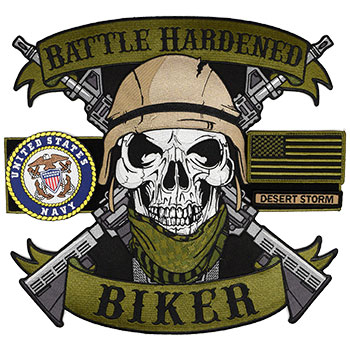 Battle-Hardened Biker Back Patch Set
From The Archives: Our 2009 Visit to Americade
2009 Was an exciting year for the Stadri Emblems staff. Our first trip that year was five days in the beautiful Lake George, New York for the Americade. Record attendance, and outstanding weather gave us the perfect venue to showcase our products. Stadri made a huge impact at the Expo that year. We introduced our lowest minimums yet—only 6 pieces for any size patch. Our staff handed out a custom skull and rose patch. We also had bins that overflowed with free sample overrun patches.
We had a special visitor to our booth: The Omega Knights. Stadri had the privilege of designing and supplying all the patches you can see on their vests in the image above.
Several other customers came over to say hi, and a few of them even posed for us, a rare privilege indeed, getting shots of Stadri patches in action. Check it out!