Woven labels are often associated with fashion and clothing, but some of our customers use them in less traditional ways.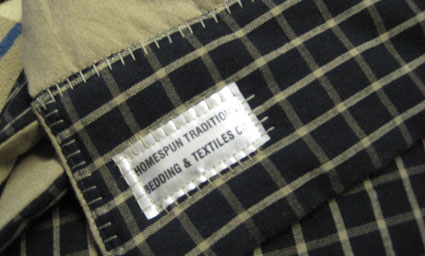 Homespun Traditions Bedding & Textiles is a quaint antique store featuring a line of early style homespun bedding, including sheets, comforters, pillowcases, shower curtains, and things of that nature.
What is Homespun?
Homespun is a lightweight fabric of fine cotton yarns produced by using traditional colonial techniques of hand dying, warping, weaving, and washing.
All products offered by Homespun Traditions Bedding & Textiles use labels—provided by Stadri Emblems—containing its trademarked company name. Homespun's goal is to achieve a professionally done look for its products and be recognized and remembered by its customers.
"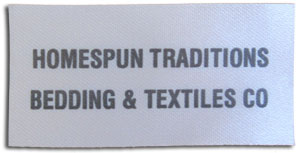 Stadri Emblems has a great product and [is] quick with printing and delivery. They help make your product look professional," says Shelley Brewer, owner of Homespun Traditions Bedding & Textiles. "A professional label is the finishing touch."
Their label is printed on satin, creating a soft and shiny, ultra-luxurious look and feel.
For more about Homespun visit their website.