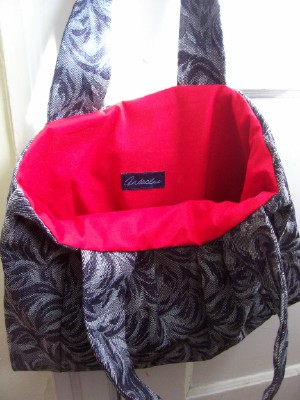 ARTacles is a line of hand-made totes, purses, and clutches. Alisha R. Tillman, the artisan behind ARTacles, observed an unbalanced ratio between young and fashionable people seeking functional yet attractive handbags and totes and the number of such handbags available. Hence, ARTacles was born, providing bags that were designed with the intent of creating a multi-sensory experience for the owner—to be both seen and touched. She says handbags are the perfect way to offer people an opportunity to interact with her art.
The Inspiration
Alisha reveals that she always had a love affair with being able to carry around with her just the right things for just the right moments, and by the age of three she was to carrying a plastic grocery bag around the house, putting into the bag things she thought she would need later. A year later, on her fourth birthday, she was given her first purse. From that point on, she always carried something.
Although Alisha loved bags, making them for a living wasn't her childhood aspiration. A friend of hers who is a fervent quilter needed a large bag to carry her equipment, and since Alisha was already a sewer, she made a custom bag for her friend. It was on this occasion that she discovered her passion for bag designing, and has been doing so ever since.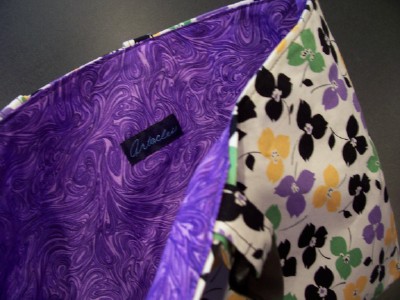 All ARTacles are unique in the sense that since they are hand made, even similar bags will have subtle differences. And because they are not mass-produced, very few individuals will have similar bags—it's unlikely two individuals with similar bags will ever cross paths. If you want a truly unique and one-if-a-kind bag, Alisha offers custom made bags, as well as what she calls 'twindividuals' or two-of-a-kind. With custom bags, only one or two of a kind are ever made, allowing the purchaser to rest assured that her 'work of ARTacle' is authentic.
Looking through the ARTacles website, I picked the above purse out as my personal favorite. Alisha calls this her interpretation of two of her favorite paintings: Sunflowers and Starry Night by Vincent VanGough. It also shows, affixed to the inside, a great shot of the woven label made by Stadri.

Because ARTacles bags are often bursting with vivid colors and elaborate patterns, designing a very simple, minimalist woven label for these bags was a very smart move. Sometimes less is more, and in this case, a simple, solid-colored woven label stands out more on these bags than a multi-colored, detailed label would. Alisha's woven label needs are classic example of the necessity of considering the label's final location/application when designing it. Her choice of blue text on a black background was smart as well—black blends nicely with any color, and blue has a nice neutralizing effect, not clashing with the vivid colors present on the bags. About her woven labels, Alisha says, "I love my labels. They are so wonderfully crafted and exactly what I wanted!"
To view beautiful examples of ARTacles made for Alisha's previous customers or to order your own, visit artacles.com.
To order your own woven labels, visit Woven Label Section.