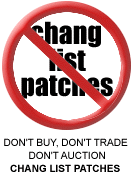 What is a "Chang List" Patch? According to Gilwell.com: "They are counterfeits of U.S. CSPs, lodge flaps and other memorabilia being offered for sale through e-mail or on the internet.Offered as overruns, they are often copies of the real thing." (http://www.gilwell.com/changlist/) You can check the full list at the link above to see if your council's patch has been "chang'ed"
BSA's GUIDELINES FOR CUSTOM PATCHES AND EMBLEMS
For custom patches and emblems commissioned by a council, unit or other Scouting organization, a Licensee must not produce
• Council Shoulder Patches currently stocked by the Boy Scouts of America (BSA) Supply Group.
• Generic or "stock" standard patches or emblems stocked and sold by the BSA Supply Group.
• Rank insignia, or patches/emblems substantially similar to rank insignia.
• Patrol emblems currently stocked and sold by the BSA Supply Group.
• Merit Badges or Merit Badge "knock-offs".
• Parody patches or emblems that the BSA, at its sole discretion, would deem as reflecting poorly on the BSA or its programs.
• Patches or emblems that contain the confederate flag.
• Interpreter strips or embroidered knots stocked and sold by the BSA Supply Group.
All custom patches are also subject to the following restrictions: All emblems must contain a Boy Scouts of America corporate identifier: either, "BSA" without any periods, "Boy Scouts of America" or the BSA fleur-de-lis; as instructed in the BSA Insignia Guide. All emblems must be for a Scouting event. No trademarks, including the Girl Scouts of the USA (GSUSA), from others are allowed without prior authorization expressed from the trademark owner (on company letter), and written approval from the BSA No text or designs over the BSA Universal Emblem or FDL, when it is the only identifier used No text or designs superimposed over the American flag (either current or formerly flown), nor attached to it any mark, insignia, letter, word, figure, picture, or drawing of any nature (a stationary American flag may not be used as a patch backing, however, a "waving" American flag may be used). No obscene gestures, language or slang, that the BSA, at its sole discretion, would deem as reflecting poorly on the organization, its programs and/or its members. No words or designs that the BSA would consider, at its sole discretion, to reflect poorly on the values of BSA or that it would deem offensive to BSA and/or its members. Patrol Emblems must be 2" round with a tan border / background, no letters or numbers and maximum of three colors. Unit, District and Council Emblems must be for a specific event such as a Camporee or Summer Camp. District patches are not authorized. There should not be any Political reference made on patches. BSA Emblems do not require a statutory markings (i.e. ®,™, ©), except in cases where the emblem or patch is of sufficient size that these marks can be produced legibly. Council Shoulder Patches (CSPs) cannot have the city, state on them. Only the Council name is allowed as far as identification of the unit is concerned. As an official Boy Scout Licensee, we at Stadri Emblems take these guidelines very seriously, but why should Councils care? Well, here's two very good reasons: A Scout should be trustworthy and obedient. We want to hear from you? If you are a Scout, what do you think of the invasion of "Chang" Patches into Scouting? How about these BSA guidelines? Too strict? Not strict enough? Effective or not? Were the patches at this year's Jamboree a reflection of these guidelines or not? Weigh in! Your comment can be anonymous. For the highest quality Official Scout Patches at the lowest prices guaranteed visit Stadri Emblems Scouting.